Published: Monday, March 28, 2016 04:13 PM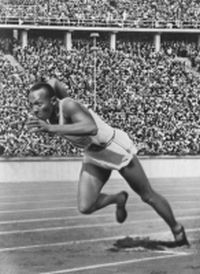 On March 28, 1990, President George H.W. Bush awarded Olympic gold medalist Jesse Owens with the Congressional Gold Medal.
Owens was born to Henry and Emma Alexander Owens in Alabama on Sept. 12, 1913. His family moved to Cleveland, Ohio, when he was 9 which is where his athletic career began.
In 1928, Owens would set the junior high school records by clearing 6 feet in the high jump and almost leaping 23 feet in the broad jump. Eight years later, he represented the United States in track and field at the Berlin Olympic games.
Owens set a record for most gold medals by an African American Olympian in a single Olympiad. He won four gold medals in the 100 meter, 200 meter, 4x100 meter and the long jump.
Later in life, Owens became an inspirational speaker and addressed youth groups, civic meetings, PTAs and others. He received the Presidential Medal of Freedom from President Gerald Ford in 1976. In 1979, he received the Living Legend Award from President Jimmy Carter.
Jesse Owens passed away March 31, 1980, due to complications from lung cancer. He was buried at Oak Woods Cemetery in Chicago.
For more information: http://www.jesseowens.com/