Published: Tuesday, February 16, 2016 11:08 AM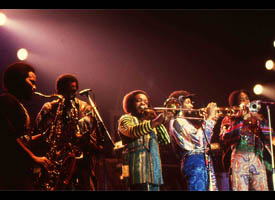 Maurice White, founder and former leader of Earth, Wind & Fire, traveled to Chicago in the 1960s to study at the Chicago Conservatory of Music. While working under the legendary Chess Records label, he had the opportunity to play with Etta James, Fontella Bass and Ramsey Lewis.
White joined the Ramsey Lewis Trio and traveled the country, returning to Chicago after three years and forming the Salty Peppers group with friends Wade Flemons and Don Whitehead. The group composed several songs, including "La La Time," and starred in commercials that aired in Chicagoland.
White, Flemons and Whitehead relocated to California after a few years and changed the name of their group to Earth, Wind & Fire.
The rest, as they say, is history.
Learn more:
Read more about the life and accomplishments of Maurice White and Earth, Wind & Fire
Watch Stevie Wonder's Emotional Maurice White Tribute at Grammys (Rolling Stone)