Published: Tuesday, March 08, 2016 08:42 AM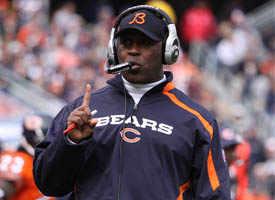 Lovie Smith was born on May 8 in Gladewater, Texas and grew up in nearby Big Sandy. He played football in high school and at the University of Tulsa, where he was a two-time All-American at linebacker and safety.
After assistant coaching at a number of colleges, he began his NFL career as a linebacker coach for the Tampa Bay Buccaneers in 1996. Five years later, he moved on to serve as the defensive coordinator for the St. Louis Rams, a position which would take him to Super Bowl XXXVI. In 2004, Smith was hired as the head coach for the Chicago Bears. Smith led the Bears to Super Bowl XLI in 2006 and to the NFC Championship Game in 2010.
Learn more:
Illinois turns the page with hiring of Lovie Smith as football coach – Chicago Tribune