Published: Tuesday, March 01, 2016 03:47 PM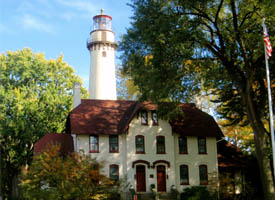 Grosse Point Lighthouse, located in Evanston along the Lake Michigan shoreline, was first illuminated on this day in 1874. The lighthouse was built by the federal government as Chicago's role as a hub for lake transportation was drastically increasing.
The lighthouse is situated along a particularly shallow section of Lake Michigan that caused many shipwrecks in the years prior to construction. A tragic accident between a passenger steamer and lumber-carrying schooner in 1860 resulted in an estimated 300 deaths, only increasing pressure to build a lighthouse warning ships of shallow waters and guiding them to Chicago.
The lighthouse was electrified in 1923, decommissioned in the mid-1930s and has only been used intermittently since 1945 to direct passenger cruisers. The grounds surrounding the lighthouse were named a National Historic Landmark in 1999, making Grosse Point the first lighthouse on the Great Lakes to be named a National Historic Landmark.
Learn more:
Read more about the history of the Grosse Point Lighthouse