Published: Thursday, February 25, 2016 09:33 AM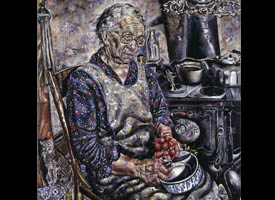 Ivan Albright was born 119 years ago this week in Harvey.
Albright, who is known for his typically dark yet very meticulous art work, began his career studying at The Art Institute of Chicago. He was very interested in the works of El Greco and Rembrandt, but quickly developed his own style. Many of his pieces have themes of life, death, the material and spirit worlds and the effects of time.
Albright was prolific in his work. He worked up until his death in 1983, completing more than 20 self-portraits in the last three years of his life. His attention to detail caused him to spend upwards of ten years on one painting. Often he would hand carve intricate frames for works.
Ivan Albright is a celebrated artist. He was a fellow of the American Academy of Arts and Sciences and was elected to the National Academy of Design. He won first prize in three major exhibitions in New York, Chicago and Philadelphia in 1941.
The Art Institute of Chicago currently houses one of his most famous paintings, Picture of Dorian Gray, along with a vast archive of his work.
Learn more:
To see more of Albright's work, visit The Art Institute of Chicago