Published: Tuesday, February 09, 2016 04:34 PM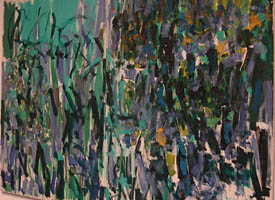 Joan Mitchell was an important abstract expressionist painter and print maker. She graduated from the School of the Art Institute of Chicago. A fellowship took her to France in 1948, where she began work in abstraction.
Mitchell is one of few women who are recognized as prominent figures in the abstract expressionist movement. Her work saw many changes over the years, work influenced by Vincent Van Gogh and Matisse.
She spent much of her life living and working in France; however she was monumental in shaping the New York art scene of her time. Mitchell provided generous support, to young artists, and created a foundation to recognize individual artists.
Learn more:
View some of her work and learn more about her here (The Joan Mitchell Foundation)