Published: Tuesday, May 10, 2016 01:37 PM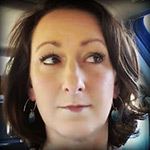 Heather Holland-Daly is a wife, a mother and an artist. She grew up constantly creating and now fashions wonderful works of art in her home in Belleville.
While she makes art in various media, her favorite is working with enamel to create startlingly unique and wearable works of art. From bracelets to earrings, Holland-Daly uses multiple media to integrate art into a person's everyday life by transforming different color schemes and ideas into curated accessories.