Published: Monday, August 01, 2016 09:52 AM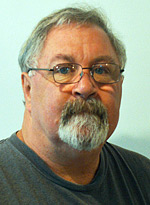 Christopher Brennan is a painter based in Alton who draws inspiration from Midwestern towns and cities.
His depictions of everyday scenes evoke feelings of familiarity as viewers are transported to spaces seemingly part of their own memories. Focusing on urban and natural landscapes, his work is introspective in nature and provides imagery that allows the mind to wonder and explore.
When not painting himself, Brennan teaches art at the collegiate level, currently at Lewis and Clark Community College in Godfrey.