Published: Wednesday, July 01, 2015 10:22 AM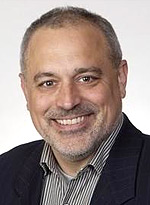 Erik Blome followed his father's passion for art and has become one of Illinois' most prolific artists. Blome specializes in creating massive bronzes. He has created the Blackhawks' 75th anniversary sculpture at the United Center, a 9/11 monument in Oak Lawn and a statue of Jack Benny along with other sensational works. Blome's art can be found in 17 states and in Canada.
Blome and his wife, Charlotte, have founded and run a non-profit organization called "When I Grow Up I Want To Be," which brings art and other supplies, art workshops and attention to children from Ethiopia.