Published: Friday, April 07, 2017 03:32 PM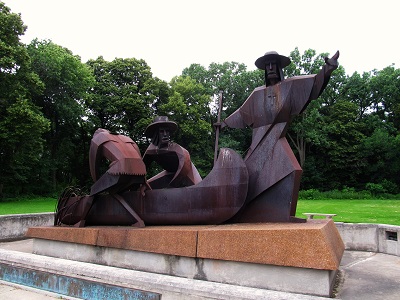 Tomorrow marks the 343rd anniversary of European involvement in Illinois. On Good Friday in 1674, Jesuit priest Fr. Jacques Marquette declared possession of a Kaskaskia village near present-day Ottawa and named it the Mission of the Immaculate Conception. It was the first Catholic mission in Illinois.
Fr. Marquette and his guide, Louis Jolliet, were the first Europeans to have contact with the Illiniwek nation Indians when they met with leaders in a village on the Illinois River in 1673, about a year prior to founding the mission.
After initially meeting the leaders of the Peoria and Kaskaskia tribes, two of about a dozen tribes in the Illiniwek Confederation, Marquette and Jolliet left the village to return to their base near Traverse City, Michigan. Local leaders sent the two Frenchmen off with a feast of corn porridge, fish, buffalo and dog (which the Europeans declined). The tribal leaders wished them well and encouraged them to return.
When they returned the following April after having waited out the winter of 1673-74 in a small hut near what would become Chicago, they were welcomed with open arms by the Illiniwek villagers. Historians suspect that the Illiniwek were so gracious because Marquette and Joliet told them that the French had vanquished their enemies, the Iroquois, with the help of the Christian God.
The establishment of the Mission of the Immaculate Conception is an important event in the history of Illinois. Only a few years later, the French established Fort Crevecoeur near the mission on the east bank of the Illinois River. A permanent settlement would later spring up around the fort and the mission and grew into what is now the city of Peoria.