Published: Monday, December 15, 2014 03:56 PM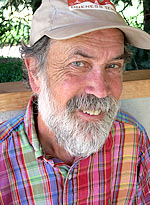 A young Bill Crook left Illinois to travel around the country, then returned home to Springfield to begin a career as an artist. His love for his home state has inspired much of his work, including drawings of the state capitol, Lincoln's home and historic sites throughout the state. He continues to document the life and times of Illinois. Read on to learn more about Mr. Crook and see more of his artwork on his website.
ILI: How long have you been an artist or when did you start? Was there a single incident or moment when you realized this was your passion and if so, tell us about it?
CROOK: I've been doing pen and ink drawings for about 43 years. I began when I was a design student at University of Illinois in Urbana, and was inspired by the so-called underground comics movement of the '60s and 70s, especially the work of Robert Crumb. I had work published in a number of small press publications, but unfortunately the pay was non-existent. This was during the Vietnam War, and I dropped out of college, hitch-hiked to Mexico and camped on a Pacific beach at Tenacatita Bay. It was there, experiencing the overwhelming beauty of the land and the sea, that I decided to be an artist.