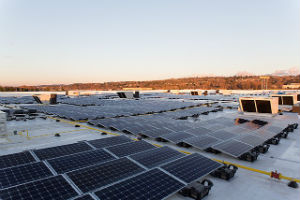 IKEA's Midwest distribution center in Joliet now boasts the largest solar rooftop in the state. The two IKEA stores in Bolingbrook and Schaumburg also have solar rooftops, making IKEA the owner of the three largest solar rooftop in Illinois.

The Joliet rooftop will produce approximately 3,377,000 kWh of electricity yearly, which is the equivalent of reducing the emissions of 538 cars or providing electricity for 377 homes.

Solar rooftops absorb the sunlight as a source of energy to generate electricity and/or heat.

The Joliet distribution center is favorable for IKEA's network due to its central location and nearby railroads. IKEA is already planning to build another facility nearby, which could be a big job creator for Illinois.

IKEA is working toward moving to clean energy in all aspects. The company has earmarked $2.5 billion to invest in renewable energy until 2020, when the company also hopes to be energy independent – IKEA wants to produce as much clean energy as it uses in its buildings.

IKEA has constructed 700,000 solar panels on buildings across the world and has over 300 wind turbines. One-third of the approximately 300 wind turbines are located here in the United States, and 49 are in Hoopeston, Illinois.

For more information about IKEA, click here.