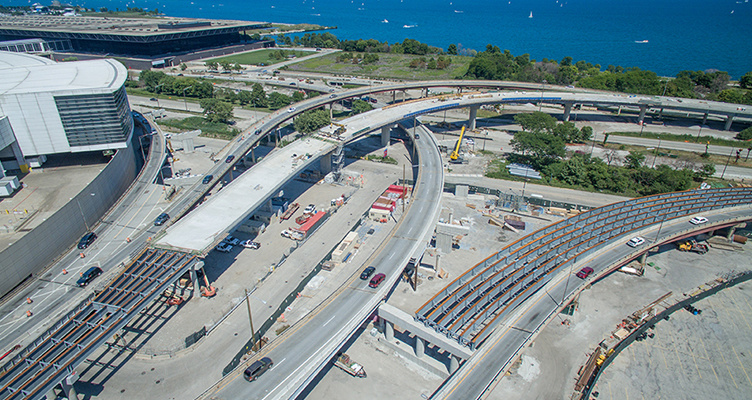 The Illinois Department of Transportation (IDOT) has earned the Grand Prize in the 2018 America's Transportation Awards, the top honor for state departments of transportation. The award was presented to IDOT at the American Association of State Highway Transportation Officials annual meeting in Atlanta this week.
IDOT's Interstate 55-Lake Shore Drive interchange took the top prize in the "Best Use of Technology & Innovation, Medium Project," prize for its use of a temporary bridge to accommodate inbound I-55 traffic to southbound Lake Shore Drive.
"We are proud to bring this award home to Illinois for the first time," Illinois Transportation Secretary Randy Blankenhorn said in a press release. "The innovation that made this project stand out represents IDOT's enthusiasm and commitment for creating and maintaining a safe and efficient transportation system for travelers statewide. Our employees strive to find creative solutions each and every day in everything they do to keep Illinois moving."
The project saves the public countless hours of delays by avoiding extended closures and detours during the reconstruction. It also increases safety, reduces congestion and connects a major interstate and an urban expressway near some of Chicago's most popular recreational and educational destinations, according to IDOT.
The 2018 competition attracted 79 project nominations from state departments of transportation in 35 states. An independent panel of industry judges selected the Grand Prize winner, while the project receiving the highest number of online votes earned the Socrata People's Choice Award.
The award also included a $10,000 cash prize for a local nonprofit organization, which IDOT will give to the Special Olympics.