Published: Thursday, October 09, 2014 10:51 AM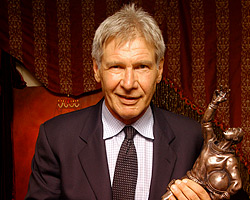 Actor Harrison Ford was born July 13, 1942, in Chicago. His mother, Dorothy, was a radio actress, and his father, Christopher, was an advertising executive and actor. He has one brother, Terence, who was born in 1945.
Throughout his childhood, Ford was heavily involved with the Boy Scouts of America and achieved the rank of Life Scout. He attended Maine East High School in Park Ridge, where he was the first student to broadcast on the high school's radio station and the first sportscaster during his senior year in 1960. He went on to attend Ripon College in Wisconsin, where he got his first experience in a drama class.
In 1964, Ford moved to California, where he worked various jobs in the music and film industry, including a job building cabinets for director George Lucas. This position eventually helped him to land an acting job in two blockbuster films directed by Lucas. He was cast as Han Solo in the "Star Wars" films and as Indiana Jones in the "Indiana Jones" films.
Ford has had roles in over 60 films since 1966 and has been nominated for four Golden Globes and an Academy Award. He has a star on the Hollywood Walk of Fame and has received the Cecil. B DeMille Award, the first ever Hero Award, and the AFI Life Achievement Award.
Learn more:
Check out his IMDb Profile