Published: Tuesday, December 26, 2017 10:00 AM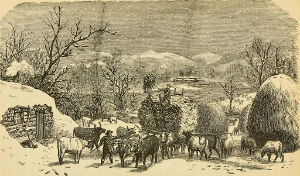 Did you know? The biggest snowfall in Illinois history happened on February 28, 1900.

It's been recorded as the biggest snowfall within a 24 hour time period to ever cover the state of Illinois.

The National Oceanic and Atmospheric Association documented 36 inches of snow fell on the cold brisk day. The highest snow depth ever logged in the state was also associated with that storm.

In Astoria, 41 inches of snow were measured. Recordings have challenged those measurements throughout the years but none have broken the record.

On average, Illinois experiences five severe winter storms between the months of November and April. These storms may only consist of heavy snow, or be a mix of snow and ice.

If you ever find yourself caught in a snowstorm the best thing that you can do according to The Weather Channel is to see if there is a building close by. If there isn't a building in sight, you should stay in your vehicle and turn the car off. Turn the car on every once in a while to heat it up, and then turn it back off to conserve gas while you wait for help.
For more information on what to do during a snowstorm click here.