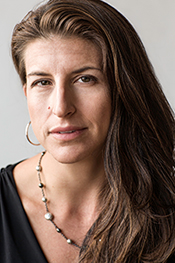 Sarah Kaiser is an Evanston based artist and teacher who received her MA in Art History and MFA from the University of Chicago. Her work focuses on the juxtaposition of figures, animals and patterns unified by a nature-inspired color palette.
She mainly works in oils, using gestural brushstrokes to convey universal themes such as the transience of life, the persistence of time, and the relationship between humans and nature.

ILI: How long have you been an artist or when did you start? Was there a single incident or moment when you realized this was your passion and if so, tell us about it?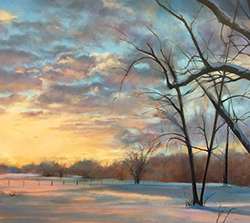 Kaiser: My earliest recollection of making art comes from a photograph my mother took of me when I was three or four years old. I was painting with watercolors, and I remember that there was a picture of Donald Duck on the tin paint box. At the moment in which the photo was taken, I told her that I wanted to be an artist when I grew up. I'm glad she encouraged me. Since I was an only child until age 13, I also needed to fill the time, so I turned to drawing and painting. Mom and I moved often because of her job. I went to 7 different schools between kindergarten and the 12th grade. As a result, I was often the new kid at school, and had to make new friends. This meant that I often had to play alone. When I was bored, I would make art.