Published: Monday, December 11, 2017 11:35 AM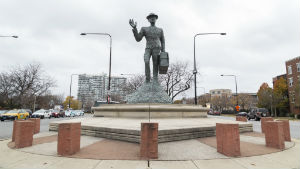 Designed by Alison Saar, Monument to the Great Migration celebrates the thousands of African Americans who journeyed to Chicago in search of freedom and opportunity during the early 20th century. The statue is located at 2600 S. Martin Luther King Dr.
The great migration is one of the most profound and celebrated cultural movements in modern history. The statue depicts a traveler waving his hand to symbolically greet his new home, while he carries a worn suitcase in his other hand to represent his journey. The statue is oriented toward the north to symbolize his destination.
In 1927, the State of Illinois erected a memorial to celebrate black veterans of World War I after a lengthy campaign led by the Chicago Defender. Victory Monument, found at 3500 S. King Dr., is a towering granite column with designs by renowned French sculptor, Leonard Crunelle.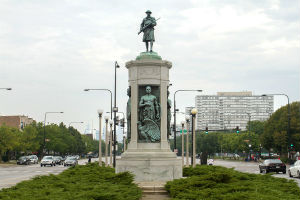 On three sides of the pillar, heroic bronze figures symbolizing the tragedy and glory of war are depicted. The fourth panel is inscribed with the names of 137 fallen soldiers of the Eighth Regiment of the Illinois National Guard. A bronze figure stands tall and strong at the top of the column.
Both monuments are located in one of Chicago's most celebrated Southside neighborhoods—Bronzeville.