Published: Tuesday, May 10, 2016 01:37 PM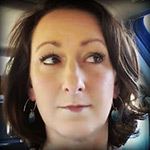 Heather Holland-Daly is a wife, a mother and an artist. She grew up constantly creating and now fashions wonderful works of art in her home in Belleville.
While she makes art in various media, her favorite is working with enamel to create startlingly unique and wearable works of art. From bracelets to earrings, Holland-Daly uses multiple media to integrate art into a person's everyday life by transforming different color schemes and ideas into curated accessories.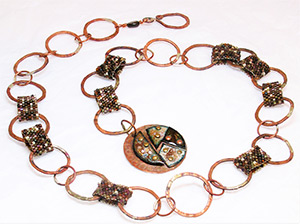 ILI: How long have you been an artist or when did you start? Was there a single incident or moment when you realized this was your passion and if so, tell us about it?
Holland-Daly: I think me being an artist was cultivated by my parents long before I knew that I was one. My mom holds a Bachelor of Fine Arts degree from U of I; she draws and paints. My father was a writer and photographer in his spare time and in retirement. I was always involved in artsy things as a kid, music and theater especially. Art supplies and room to create were always part of the day. I remember making macramé flower pot holders for all of my aunts when I was in sixth grade. They would buy the materials and show me where they wanted it to hang and I would go to town. I also make little macramé bracelets and sold them at school for $1. Ha.
In my 20s and 30s I worked in the theater. I traveled all over the country on tours, dinner theaters and summer stocks. In 2003 I started monsterbbles, which was a needlework design company. I designed cross stitch patterns that I self-published and designed for magazines. It was my first step into the world of wholesale, selling directly to shops and going to big fiber art markets. In 2007, Interweave Press asked me to write a book full of my designs. That was a great experience. The book is called "Stitch Graffiti" and came out in 2008. Somewhere in my needlework journey I started making these little beaded scissor fobs, which are basically tassels that you put on your special fabric scissors (so no one in your house uses them to cut paper!). Well, they sold as fast as I could make them. I kept reinvesting that money into more and more jewelry-making supplies. I learned to bead weave at the Bead Place in Fairview Heights, and then metalwork, which led to enameling. I always say to people who are interested in learning to make jewelry that it is a slippery slope. Once you learn one technique, it leads to another, then another! I have been at jewelry making full throttle for around seven years. I am always learning new things. I love it.

ILI: Illinois has been factored into your work in the past. What does being able to live and work in Illinois mean to you?
Holland-Daly: No matter where I have lived in my life, I still called Southern Illinois home. It is beautiful here. We moved back to Illinois 11 years ago from Southern California. Though there are many great things about Southern California, I was so happy to be back. Now if we could just do something about the winters … the winter here I could skip.
My sister and her husband (who teaches art at East Alton Wood River High School) live just down the road, as does my mom. It is great to have that support. My nephew, who is a junior at Belleville West, is making jewelry too! It has been fun to watch his journey and have his help when I get busy!
I have a lot of community support as well. I sell to a shop in my hometown called Peace by Piece. Christina Keck, the owner (she sources American-made items or merchandise like TOMS shoes that have some kind of a "give back program" only), has been selling my creations since she opened and I have grown a bit of a following through that shop. In some ways we have grown together. It has been an amazing partnership.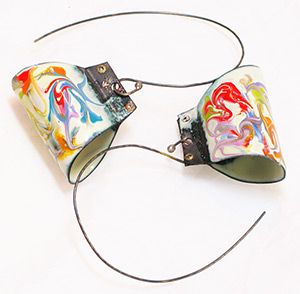 ILI: What opportunities does Illinois present to local Illinois artists?
Holland-Daly: There are so many art shows and craft shows in the state that if you want to try to sell your art, there are plenty of opportunities to do so. Plus we are so centrally located it takes no time to do shows just out of state as well. One of my favorite out-of-Illinois shows is Paducah Lowertown Art and Music Festival in May. Some of the customers I have down at that show have made the trek to Mount Vernon to Cedarhurst in September to see me, which is amazing! They love the drive and the afternoon spent on the grounds of the Mitchell Museum. I have been told it has become one of their favorite traditions! Coming to see me, yes, but finding so much more along the way!
ILI: What do you like about Illinois?
Holland-Daly: The summer: hot, humid, rainy, green, love it. There is something very specific to the Midwest about the feeling of a summer night. I will sit outside in the summer with a tray of beads and no plans and just make something! The last few summers I have been painting our fence, porch and surrounding flat surfaces. My neighbors either love it or think kooks live in our house! It is rare around our home that my son, husband or I aren't making something every day.
ILI: What is your favorite medium to work in?
Holland-Daly: Enameling. I work with a torch and kiln. There are just so many variables and surprises! I love to bead weave with tiny seed beads, too. It is more portable than enameling, so I can take it outside or upstairs if we are sitting around as a family watching a movie or something.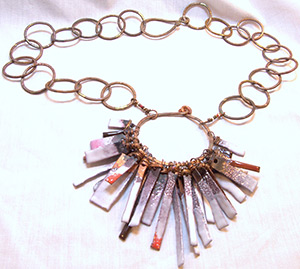 ILI: Where can people view or purchase your work?
Holland-Daly:
• www.etsy.com/shop/fripptic
• Peace by Piece in Belleville, IL
• Philomena & Ruth in Waterloo, IL
• The Mitchell Museum Gift Shop
ILI: What artist inspires you and why?
Holland-Daly: I get inspired by color combinations I see everywhere. It drives everything I do. One of the reasons I have gotten so involved in enameling is color. When I was doing metalwork I missed that color. I mean, it was pretty in its way, but I wanted it to be chartreuse or fuchsia! Ha. I find color combos everywhere from the fruits and veggies at the market or the clothing I see in local boutique. I make jars of bead color mixes I call Bead Soup. When I am in a rut, I will take a jar, a bead mat and tray and just start stitching the beads together. Sometimes something fantastic comes out. More often I make a component, like a beaded bead, that I won't have a use for until much later, which is really fun.