Published: Monday, April 11, 2016 02:25 PM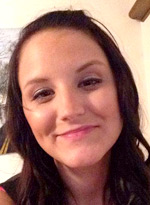 Rachel Brisbois is a self-taught artist born in Chicago, IL. She inherited much of her creativity from her family's diverse and long artistic history. Rachel's aim is to paint thought provoking subjects that beautify an otherwise transparent world.
Although she dabbles in various mediums, her paintbrush finds comfort in acrylic paint and ink. The artist prefers the fast drying nature of acrylic but enjoys the diluted blending power ink renders.
Rachel has shown her work at the Ottawa Art League Gallery, August Hill Winery, The Paint Box Gallery and more. Rachel is also a member of the Ottawa Art League. She lives in Wenona, IL.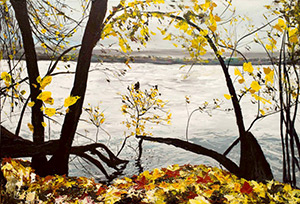 ILI: How long have you been an artist or when did you start? Was there a single incident or moment when you realized this was your passion and if so, tell us about it?
Brisbois: I have been painting and studying art seriously for 15 years. I didn't see my potential in drawing and painting until about eighth grade. My teacher encouraged me. She saw something in my artwork that I couldn't see myself. I truly believe her encouragement made me realize my potential. I worked harder to get better because she said I was doing something of worth. Her encouragement followed me into high school and beyond.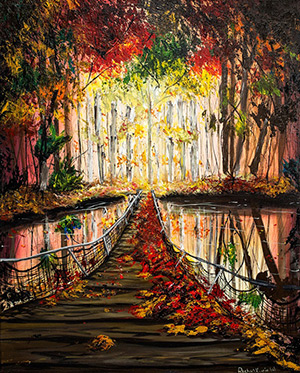 Painting, in particular, is my passion because it is something I can do without feeling like it's work. I find myself losing hours and sometimes days when I paint. The world goes dark, and it is just me and my art. I'm being challenged and having so much fun at the same time. I think the deep connection I have with my art is what makes me confident enough to call myself an Artist.
ILI: Illinois has been factored into your work in the past. What does being able to live and work in Illinois mean to you?
Brisbois: What is wonderful about Illinois is you can live and work in a major city or in the country. In an hour, you can see an award-winning opera, or I take a relaxing drive though one of Illinois' beautiful state parks. There's variety in Illinois. The landscape, the people and the atmosphere are so diverse. Illinois can be extremely inspiring if you take the time to look.
ILI: What opportunities does Illinois present to local Illinois artists?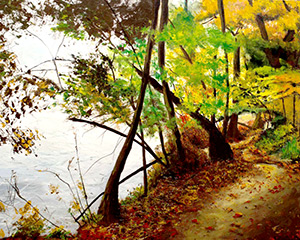 Brisbois: I feel that my community's businesses and galleries are always advocating for local artists. They promote us in their stores and on their social media outlets. The Illinois Valley has a few serious groups that nurture the importance of the arts. There's the long time running group, Ottawa Art League in Ottawa and NCI ARTworks in LaSalle. NCI ARTworks promotes all the fine arts from painters to musicians. Through these groups, I am able to build connections within the community and other artists.
ILI: What do you like about Illinois?
Brisbois: I love that I can live peacefully in the country but travel an hour's distance to experience the big-city life. Chicago is an artistically progressive city. There are galleries, installations, schools, etc., that all pertain to the importance of creative thought. Illinois also has a plethora of breathtaking state parks. My summers are usually filled with hikes through canyons and canoeing down rivers. I have the luxury of living a short distance from Matthiessen State Park, Starved Rock State Park, Buffalo State Park and more. There's just an abundance of beauty and inspiration.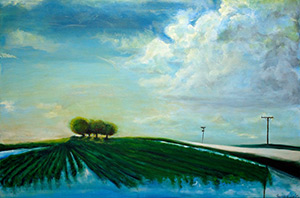 ILI: What is your favorite medium to work in?
Brisbois: I prefer to work in acrylic because of its fast-drying nature. I do paint in oils, but my oil paintings are usually an ongoing project that takes quite a bit of time to complete. I also love mixing acrylic and oils or acrylic and ink.
ILI: Where can people view or purchase your work?
Brisbois: Interested parties can view my work or contact me personally through:
Email: rachelkwit@gmail.com; Website: rachelbrisbois.pixels.com; Facebook: Rachel Brisbois, Fine Artist.
ILI: What artist inspires you and why?
Brisbois: I'm inspired by the old masters of art, but mostly the art of Leonardo Da Vinci. He accomplished such a fine artistic technique. He was also a brilliant man. He invented machines far before his time. He researched and studied extensively. I respect his passion and drive to create.