Published: Wednesday, January 21, 2015 10:21 AM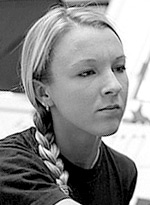 Balancing society's need and desire for man-made products with limited natural resources is the regular theme Illinois artist Hannah K. Freeman employs in her work. Freeman, born in Jacksonville, makes time for creating oil paintings while working as an instructor in graphic design at Eastern Illinois University. She disputes any notion that opportunities for artists exist primarily in cities, finding calls for artwork for exhibitions come from Illinois towns of all sizes, statewide.
ILI: How long have you been an artist or when did you start? Was there a single incident or moment when you realized this was your passion and if so, tell us about it?
FREEMAN: Without a doubt, I was born an artist. While other children were into video games and television shows, I spent my childhood drawing on everything in sight – walls, Kleenex boxes, couches; nothing was sacred. I would spend hours locked in my room handcrafting cards for friends and family and posters and signs for holidays and special events. I was the kid who carefully crafted a handmade valentine for each classmate and loved every minute.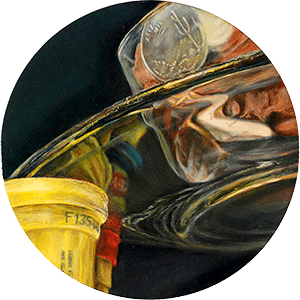 Throughout junior high and high school, my notebooks and folders were covered in elaborate designs, a combination of doodles and letterforms. While attending Jacksonville High School, I found myself pulled toward the art room and spent a large portion of my senior year creating art and helping as an aide in the room. After graduating from high school in 2009, I chose to attend Eastern Illinois University and study graphic design. A focus on art felt right, and I knew I would always be happy doing what I love. When I started painting in 2010, I soon realized how passionate I was about becoming an artist and made it my goal to become the best painter I could be.
ILI: Were you born in Illinois? If so, where? If not, what brought you here and when?
FREEMAN: I was born in Jacksonville, Illinois, in 1991.
ILI: Illinois has been factored into your work in the past. What does being able to live and work in Illinois mean to you?
FREEMAN: Living and working in Illinois has provided me with the opportunity to do what I love while being surrounded by my family and friends. I would not be where I am today without the love and support from my family, friends and mentor. Producing work in Illinois allows me to stay rooted to my past while I take on new challenges and endeavors.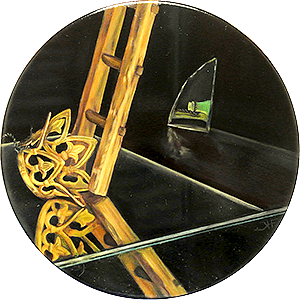 ILI: What opportunities does Illinois present to local Illinois artists?
FREEMAN: Cities and towns throughout the state of Illinois are constantly calling for artwork for exhibitions. From a big city like Chicago to a small town like Paris, IL, Illinoisans have tremendous support for the arts. It never ceases to amaze me how many opportunities are out there and how invested people are in seeing and understanding various art forms.
ILI: What do you like about Illinois?
FREEMAN: I am grateful that Illinois provides me with the opportunity to work for the prestigious Eastern Illinois University and create and exhibit work on the side. By living in Illinois, I am able to stay close to my family, friends and mentor while maintaining my busy schedule.
ILI: What is your favorite media to work in?
FREEMAN: I have a strong passion for oil paint.
ILI: Where can people view or purchase your work?
FREEMAN: An extended portfolio is available online at www.hkfreeman.com. To those who are interested in purchasing any of my paintings, please email me at hkfreeman.art@gmail.com or visit my website and check out where my work will be on display (Upcoming Exhibitions).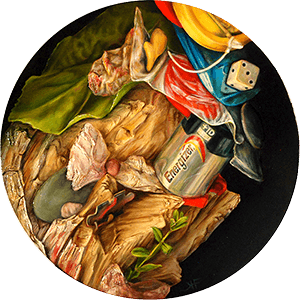 ILI: What artist inspires you and why?
FREEMAN: Dutch still life painting from the 17th century will never stop inspiring me. I love the impeccable craft and deep symbolism that lies in the paintings. I strive to create this in my own work. Numerous contemporary artists, ranging from photorealistic oil painters to abstract painters, also inspire me. To name some names: Ben Weiner, Marilyn Minter, Maria Tomasula, Justin Miller, Chris Cosnowski, Alexis Rockman, my mentor Chris Kahler, Anna Camner, the list goes on…
On another note, I am perhaps most inspired by the relationship between nature and our society. We have an enormous impact on the state of our surroundings in the future.