Published: Friday, February 27, 2015 02:50 PM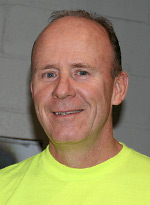 Joel Ryser became passionate about art at a young age and currently teaches at Moline High School. Outside of school, his latest interest is Hot Glass Inc., a non-profit organization he founded to teach art to teenagers. He has touched countless lives through his work as an educator, and you can read on to learn more about his artwork.
ILI: How long have you been an artist or when did you start? Was there a single incident or moment when you realized this was your passion? And if so, tell us about it?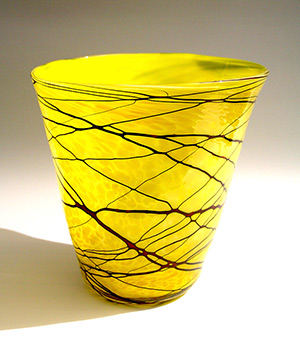 RYSER: I started my passion for art in 8th grade. My teacher was my football coach as well and I thought he was the coolest guy around. As I went through school, my art teachers and coaches were my role models. I ended up playing football and majoring in art at Eastern Oregon University. At EU, my mentor was Tom Dimond, who influenced me to pursue clay and glass. I played football and majored in art with an emphasis in clay and glass. I went on to coach football at Moline High School for 25 years and teach in the art department where I presently teach Jewelry, Metals and Glass. After retiring from coaching, my passion has turned to glassblowing. Over the last two years we have raised over $200,000 in donations of equipment, services and funds to start a nonprofit called Hot Glass Inc. in Davenport, Iowa, which teaches team-building and life skills to at-risk teens through the art of glassblowing.
ILI: Illinois has been factored into your work in the past. What does being able to live and work in Illinois mean to you?
RYSER: Living in Moline and being part of the Quad Cities has been a great place to grow up, raise a family and make a career. The people care for each other. We received tremendous support when we started Hot Glass and the community has embraced what we are doing by commissioning our Glass Team for projects at Genesis Heart Institute, Rock Valley Physical Therapy and Black Hawk State Bank. We have received programming grants from Quad City Arts, HavLife Foundation, The Doris and Victor Day Foundation and the Iowa Arts Council. The general public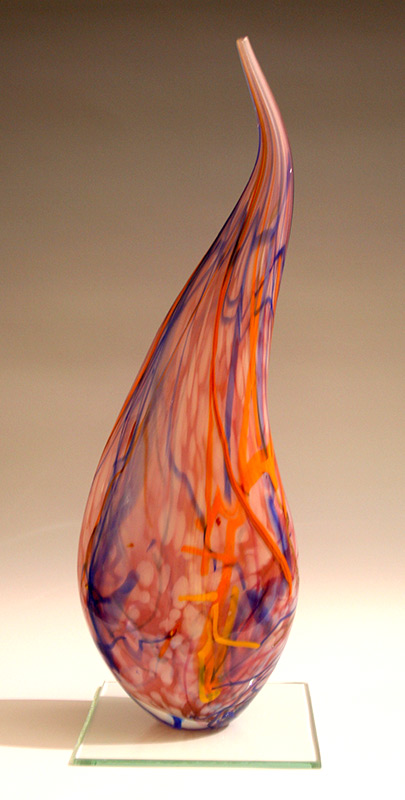 has been involved through fee-based classes and sales to support our tuition free classes for at-risk youth.
ILI: What opportunities does Illinois present to local artists?
RYSER: The Quad Cities area is rich in the arts. Quad City Arts, The Figge Art Museum and MidCoast Fine Arts all deliver quality programs. Chicago hosted the Glass Art Society Conference last year, and we were able to visit the glass galleries and studios. Glass art is becoming more popular in Chicago and we hope to continue that on the western side of the state. Illinois State University and Southern Illinois University both have outstanding glass programs.
ILI: What is your favorite medium to work in?
RYSER: My favorite medium to work in is blown glass. The challenges it brings with the heat and physical nature really attract me. Everything that happens, good or bad, when we blow glass is a learning experience. Glassblowing is one of the only arts I know that uses the team concept to produce work. We share ideas and help each other with techniques. My work is about the vibrant colors, textures, and patterns made possible with the never-ending decorative possibilities. The dance that happens with the glassblowing team is a work of art in itself. I am so lucky to have the opportunity to work at Hot Glass and share the experience with others.
ILI: Where can people view or purchase your work?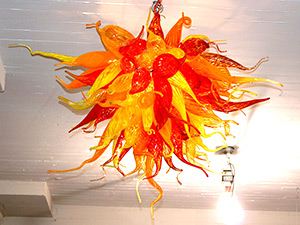 RYSER: My work is on display at Hot Glass Inc., 104 Western Ave. Davenport, IA. Our website is www.hotglassart.org.
ILI: What artist inspires you and why?
RYSER: My biggest influences in glass are the work of Dale Chihuly, Lino Tagliapietra, Dante Marioni, Stephen Rolf Powell and James Mongrain. These artists show such a passion for the medium, it makes me want to emulate them. Their work inspires the modern glass art movement to be on the cutting edge of technique and design. From the natural forms of Chihuly to the control of Marioni, the modern glass art movement features both new and timeless techniques that can be adapted to one's own style and application. The possibilities are endless. I never get tired of blowing glass!