Published: Wednesday, April 01, 2015 03:12 PM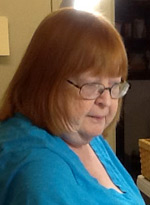 Sarah Capps was born, raised and educated in Illinois. She became passionate about art at a young age and obtained an MFA from Southern Illinois University in metalsmithing in 1972. Capps spent eight years teaching at the University of Wisconsin-Milwaukee and Eastern Kentucky University before returning to Illinois, where she taught a variety of art classes at Rend Lake College for nearly 23 years. Now in retirement, Capps keeps busy by painting and making jewelry.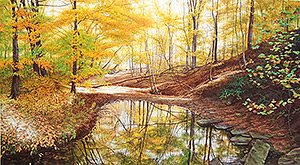 ILI: How long have you been an artist or when did you start? Was there a single incident or moment when you realized this was your passion? If so, tell us about it?
CAPPS: I guess you could say I have been an artist for 65 years. I was "called" to be an artist at the age of 3 when I drew my sister in profile while she coached me. It was magic! I could make her appear on my paper! Although I didn't have a word for art and artist, I somehow knew that this was something that I wanted to do for the rest of my life.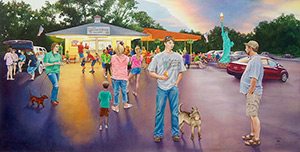 ILI: Illinois has been factored into your work in the past. What does being able to live and work in Illinois mean to you?
CAPPS: For eight years, in my mid-20s to my mid-30s, I lived and worked in other states. I was never content there. Finally, I became so lonesome for Illinois that I quit my job and moved back home. It was a decision I've never regretted. My family and I have lived on the same piece of land for four generations. The land and the people are the subjects of many of my paintings. The land and its wildlife also inspire my jewelry. Southern Illinois is in my blood.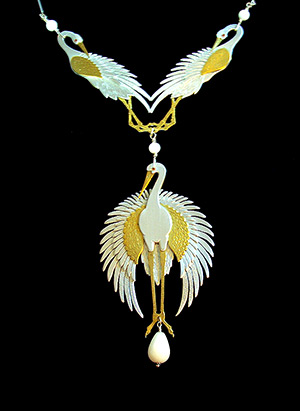 ILI: What opportunities does Illinois present to local artists?
CAPPS: I am fortunate to live within a few miles of Cedarhurst Center for the Arts in Mount Vernon and the Illinois Artisans Shop and Visitors Center in Whittington. I have been active in and a supporter of both organizations. I am also within driving distance of Southern Illinois University at Carbondale (I am an alumni), where I recently had a one-person show exhibiting over 60 paintings and metalwork. A group of friends and I have had our own painting studio for the last 11 years where we get together twice a week to work and critique. We also host our own group show and annual sale.
ILI: What do you like about Illinois?
CAPPS: I grew up an Illinoisan from birth to adulthood. As a child, I roamed the woods and creek near our farm. I grew to love the landscape. As a painter, I want to make people aware of the beauty in our own backyard. I have never felt the necessity to travel to more "scenic" areas of the country. I find Illinois as beautiful as any place I've been.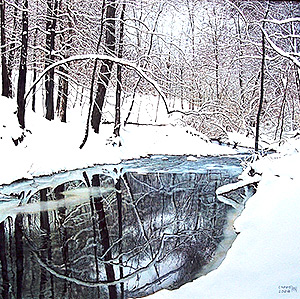 ILI: What is your favorite medium to work in?
CAPPS: I love to work in watercolor, colored pencil, graphite and ink. These mediums lend themselves to the landscapes I do. I also work in various metals, designing and fabricating pieces of jewelry by hand. I often combine other materials such as wood with the metal designs. As a one-person art department at a two-year college, I taught many subjects and enjoyed working in all mediums.
ILI: Where can people view or purchase your art work?
CAPPS: I have works in museums such as Cedarhurst Center for the Arts, the Illinois State Museum, Southern Illinois University Museum and Dunnegan Gallery of Art, Bolivar, MO. Corporations such as Bristol - Meyers Squibb, Good Samaritan Regional Health Center and SIH group also include several of my pieces in their collections. I am represented by the Illinois Artisans Shop and Visitors Center. I may be reached at cappsart@gmail.com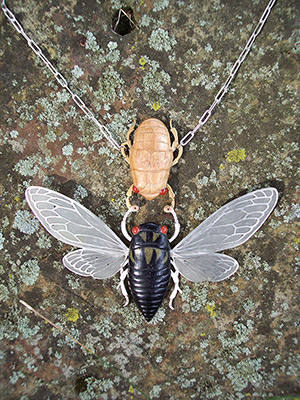 ILI: What artist inspires you and why?
CAPPS: I have always admired Michelangelo for his spirituality and the monumentality of his work, and Edward Hopper for his use of light and sense of solitude. My most admired artist, however, is my metals professor and mentor, L. Brent Kington, a nationally known blacksmith/sculptor. His influence over my art and my life cannot be overstated. He worked alongside his students and taught by example as well as word. He always built on our strengths and under his influence I accomplished work that I never knew I was capable of. His influence even spilled over into my painting. The attention to detail and craftsmanship made me a better painter.