Published: Tuesday, June 02, 2015 10:58 AM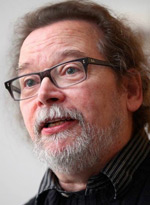 Bruce Walters started drawing at a young age and has had a lifelong passion for art. Walters has taught at Western Illinois University since 1997. He has also worked as a graphic designer and illustrator for corporations, museums, federal and state institutions, advertising agencies and the media. Walters' artwork has been displayed in more than 100 solo, invitational and competitive exhibitions − primarily in the Midwest.
ILI: How long have you been an artist or when did you start? Was there a single incident or moment when you realized this was your passion? If so, tell us about it.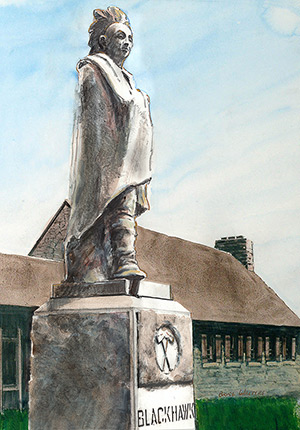 WALTERS: I've been passionate about art the whole of my life. I started drawing when I was very young – and have never stopped (I drew six hours yesterday). Yet drawing is only one aspect of my life's engagement in art. I've also immersed myself in working with new technologies. Each development, each emerging technology presents exciting, new artistic possibilities and opportunities.
Creating and teaching have been a twin passions for me. I have been an art professor for 30 years and it is still a great joy and privilege to work with students, helping them find their own voice through the arts.
I think of each of my artworks as a step forward; as prologue for the next piece. I have exhibited artwork in more than a 100 invitational, competitive and solo exhibitions. But none is more important to me than the next exhibition or project I am actively engaged in.
ILI: Illinois has been factored into your work in the past. What does being able to live and work in Illinois mean to you?
WALTERS: Over the past few years, I've written more than 40 feature articles on public art and architecture in the Quad Cities, where I live. There is a wealth of history and art in the community that I continue to discover. Examples include an 18-foot bronze sculpture by internationally renowned artist Henry Moore at the Deere & Co. Headquarters in Moline and Richard Hass' five-story mural of Black Hawk in the Rock Island District.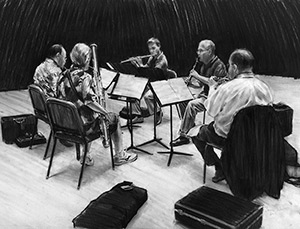 Two Sculptures in Downtown Moline, Nature Spiral, Civil War Memorials and Campbell's Island State Memorial and Peace Garden are several of the 'Art in Plain Sight' articles I've written. These focus on public artworks in Moline, the Illiniwek Forest Preserve near Hampton, Arsenal Island, Rock Island and Campbell's Island.
ILI: What opportunities does Illinois present to local Illinois artists?
WALTERS: I teach in Macomb at Western Illinois University. The university provides a tremendous creative environment and the opportunity to learn directly from professors and from fellow students in traditional art media – drawing, painting, printmaking, ceramics, metals and sculpture – and emerging digital technologies. Macomb provides opportunities to view other artists' work and to exhibit your own work at the University Art Gallery, West Central Illinois Arts Center and student galleries.
ILI: What do you like about Illinois?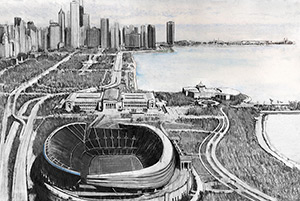 WALTERS: Everything from Chicago to its rural, open skies. Its history and its present. Its diversity of people. Its great parks. I recently stayed in Springfield for the 150th anniversary of Lincoln's funeral; visited the Museum of Contemporary Art in Chicago, shot the opening scene for a short video outside the Amtrak station in Princeton; and am finalizing preparations for a 10-by-30-foot painting to be displayed in the Quad Cities.
ILI: What is your favorite medium to work in?
WALTERS: It was once pointed out to me that I have won 'best of show' awards in very different media: digital, photography, graphite drawing, sculpture, watercolor, acrylic painting and animation. I enjoy working in each because they each have their own strengths and carry different messages. The media I use depends on the idea or emotion I am trying to convey.
Currently, I am writing and directing a film and multi-platform production in collaboration with the Western Illinois University's theatre and dance department and the University's PBS station, WQPT. Working with actors, dancers, casting, stage and lighting directors, musicians, designers and other artists to bring one's ideas to life is tremendously exciting and rewarding.
ILI: Where can people view or purchase your work?
WALTERS: I have several websites where my work can be viewed. www.bruce-walters.com is an overstuffed and sprawling site with hundreds of works. www.thespiritoftheage.com is my current project – a site that will continue to develop and grow. Recent projects include www.exploringnasa.com and www.halloweenflight.com.

ILI: What artist inspires you and why?
WALTERS: I am inspired by artists who care deeply about their work. Who never, never, never give up.
A field trip to the Chicago Art Institute in high school was very influential. I remember being in awe of Ivan Albright's painting, 'That Which I Should Have Done I Did Not Do.' The insight that ordinary things – such as the closed door in Albright's painting – can be emotionally powerful has stayed with me. Illinois-born illustrator Bernie Fuchs was also an early influence. The architectural ornamentation of Louis Sullivan continues to influence my work. Though Beethoven is not a visual artist, no artist has so inspired me.