Published: Thursday, October 01, 2015 02:24 PM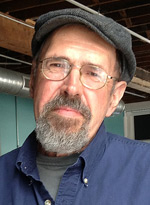 Brad Bisbey lives in Moline in the same house where he grew up. He became passionate about art and painting at an early age, and his subject matter ranges from portraits to landscapes and figures. One of Bisbey's paintings, "Winter Fields," was recently selected as a finalist in the 61st annual exhibition of the Society of Painters in Casein & Acrylic in New York City. He also exhibits and teaches classes at the Bereskin Gallery in Bucktown Center in Davenport, Iowa. Read on to learn more about Bisbey's work.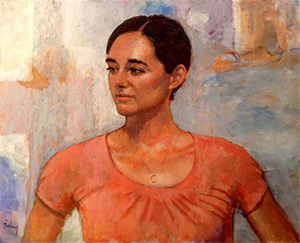 ILI: How long have you been an artist or when did you start? Was there a single incident or moment when you realized that was your passion and if so, tell us about it?
BISBEY: As a child, I was very sick and suffered from asthma and other health issues. I couldn't keep up with my brothers, so I began drawing around the age of 9. I remember going to the library and poring over all the art books on the shelves. My mother and father were very supportive and sent me to art classes with Harlan King, a great watercolorist from Rock Island. I later graduated from St. Ambrose University in Davenport, Iowa, with a B.A. degree in art and also studied with renowned portrait painter Daniel Greene in Chicago.
ILI: Illinois has been factored into your work in the past; what does being able to live and work in Illinois mean to you?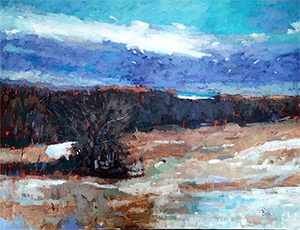 BISBEY: I was born in Illinois and have lived here my entire life. The people, the landscape and the towns have always been my subject matter. I love to travel the back roads between Moline and as far south as Galesburg or even further in search of landscapes to paint. Illinois has always been an endless source of inspiration in both its people and its places. Wherever I am, I try to remain open to the possibilities around me, and Illinois is ripe with many possibilities.
ILI: What opportunities does Illinois present to local artists?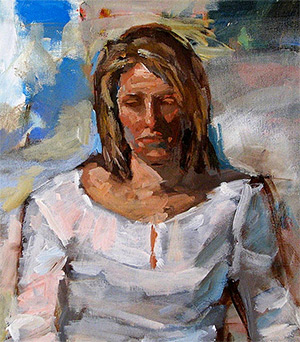 BISBEY: I am finding that the more effort I put into my work, the more opportunities open up, and Illinois does have abundant resources in the arts. Not that there isn't room for more, but that just means there is even more opportunity to build on. Any artist willing to work hard and go through learning experiences will find open doors through galleries and juried exhibitions such as the Rock Island Fine Art Guild, Quad City Arts and many others throughout the state. For me, the key is staying positive and not worrying about the rejections. Everyone who is good has gone through the rejection process and learned from it and not allowed it to define them.
ILI: What do you like about Illinois?
BISBEY: Illinois is my home. I will always think of it as home. And such good people, a wide variety of towns and cities, beautiful landscapes and a fascinating history. I am constantly learning new things about the people and places I thought I knew, but it is really just the tip of the iceberg when it comes to finding new discoveries in the state.
ILI: What is your favorite medium to work in?
BISBEY: I worked in oil for many years, then developed an allergy toward them and had to find a new medium. Now I work almost exclusively in acrylics. I love the freedom acrylics offer and would not return to oils even if I could. Acrylics are also very forgiving. I need a forgiving paint.
ILI: Where can people view or purchase your work?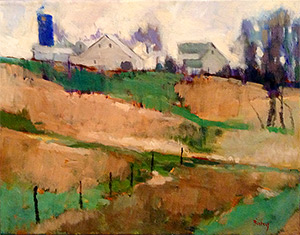 BISBEY: My work is available at Bereskin Studio & Gallery in Davenport, Iowa, across the Mississippi River from where I live in Moline. My work may be purchased there or online. I also have a website with over 200 paintings.
ILI: What artists inspire you and why?
BISBEY: So many inspirations. I have always been inspired by the great illustrators: Howard Pyle, N.C. Wyeth and Norman Rockwell. I met Dick Sargent when I was young. He was from Moline and painted covers for the Saturday Evening Post in the 1950s. The impressionists have always inspired me as well, Monet in particular. John Singer Sargent is another. The list goes on and on. So much of visual experience is our legacy.