Published: Tuesday, December 01, 2015 12:22 PM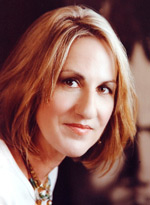 Born in California, Cat Clausen spent her childhood as a budding artist, making her own jewelry, pottery and clothing.
After graduating from college, Clausen worked in marketing, public relations and art direction for 10 years. She left her career in 1993 to become a stay-at-home mom and moved with her husband and 3-year-old son to Dwight.
It was here in the Land of Lincoln where Clausen would pursue her passion for art. She took up oil painting and has made portraits of musicians and education and political leaders, including her beloved Abraham Lincoln. Clausen is known for her Lincoln paintings, which have been featured on the cover of magazines and on banners throughout Chicago.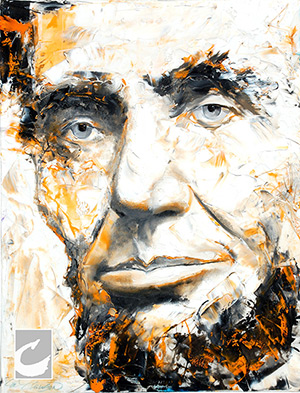 ILI: How long have you been an artist or when did you start? Was there a single incident or moment when you realized this was your passion and if so, tell us about it?
CLAUSEN: In the third grade, we viewed "The Face of Lincoln," a 1955 short documentary film in which sculptor Robert Merrell Gage models the features of Abraham Lincoln while narrating the story of Lincoln's life. My imagination was captured by the concept of creation and a passion for art was birthed. Afterward, I began to use dried pieces of mud to carve shapes of dogs and heads. If I wanted a specific toy object or plaything, I found a way to make or build it. In school and through the parks and recreation summer programs, I took art classes whenever possible. Art was where I excelled. When I entered college, I wanted to work in clay as my medium, but my ceramics professor suggested that I would have a better chance of making a living as an artist if I stayed away from clay, so I changed my focus to commercial art. After graduating with a bachelor's degree in fine art with an emphasis in visual communications from Northern Arizona University, I worked for 10 years as an art director in Arizona and Virginia. Then I moved to Dwight, Ill., a town of less than 5,000 people, with no commercial art job opportunities. Needing an outlet for my creative development, it was there that I took up oil painting, teaching myself the craft over a period of many years. I found my voice, so to speak, in painting, and I am fortunate that my true passion has also become what I currently do today as a full-time career.
ILI: Illinois has been factored into your work in the past. What does being able to live and work in Illinois mean to you?
CLAUSEN: Illinois is the Land of Lincoln, and it was watching Lincoln being sculpted in clay which birthed my passion for art. The serendipitous connection with Lincoln and Illinois only deepens when you consider that it was coming to a small Illinois town that led to my oil painting, and an oil painting of Lincoln that opened doors for me in my artistic career. Art oftentimes has a profound connection with history and place. Illinois has given my artist soul a home. Warm and friendly people abound here, and these lovely people appreciate art to the fullest. There are literally thousands of art collectors in the Chicago area and many more across the far reaches of the state. Illinois enjoys a diverse and cultured population. Because of this, being an artist and having a successful profession is possible for anyone in Illinois who is interested in this discipline and who is willing to work hard at it.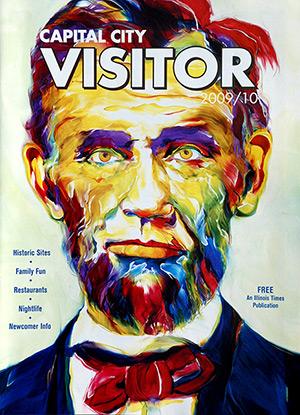 ILI: What opportunities does Illinois present to local Illinois artists?
CLAUSEN: An artist living in Illinois has countless opportunities to present and sell their work at art festivals, cultural centers, museums, businesses, schools, libraries, restaurants and businesses. Major corporations embrace the arts and support them by purchasing pieces for their buildings and landscapes, as do civic organizations. Art is often used to cultivate awareness for nonprofit organizations, churches and charities. Magazines and books feature art on their pages, as do newspapers. Online opportunities, as well, are endless for Illinois artists.
ILI: What do you like about Illinois?
CLAUSEN: My community is located in the plains where sunsets stretch as far as the eye can see. When I feel the need for other inspiration, I travel to Springfield and trace our 16th president's Midwestern legacy. The connection between Lincoln and the state of Illinois only enriches my passion for both. I love Chicago as well. Our splendid city is so very large, beautiful, culturally diverse and unique. The state of Illinois has lovely natural landscapes that delight my artistic senses. I enjoy Galena and Starved Rock State Park often. The small towns of Illinois are filled with rich history and friendly people. The food is fantastic in Illinois, too.
ILI: What is your favorite medium to work in?
CLAUSEN: I love to work in oils. I also enjoy pen and ink very much. Drawing and painting are very different and both offer countless ways to express my artistic vision. Painting has the advantage of impact with great color and texture, while drawing offers a very different voice but one that is nevertheless powerful and expressive.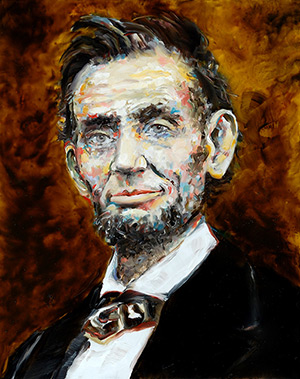 ILI: Where can people view or purchase your work?
CLAUSEN: Feel free to visit my website at http://www.catclausen.com to purchase a piece or order a commission, or better yet, come and see me and my collection at an area art festival. My show schedule is provided on my website as well as in my newsletter. You can sign up for my newsletter by visiting my contact page on my website.
ILI: What artist inspires you and why?
CLAUSEN: Everything and everyone inspires me. For me it is beneficial to get out of the studio and see the sights and meet the people. These experiences, all of them ignite a spark in my heart, which I then take into the studio to create. Joy fuels me. People and places inspire me. The melting pot of Illinois and our great country is my palette and inkwell. That is one of the reasons I love my state and country and my life as an artist so very much!
When it comes to personal inspiration, I have the love in my father's eyes upon which to reflect. When I paint the eyes of Lincoln, I draw from the well of love that I saw in my dad's eyes. Lincoln and my father both were kindhearted, brilliant gentlemen and innovative thinkers and creators in their own fields of study. Those are mere words, just a description of the men, whereas love is a feeling that can be conveyed with a painting better than with words. When you look into the eyes of one of my Lincoln portraits the love which is reflected back at you — the love you feel — is coming from the love I always feel when I think of my father.