Published: Monday, January 04, 2016 09:52 AM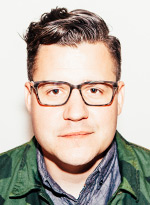 Matthew Hoffman is a Chicago-based artist and designer whose public works have been exhibited internationally. Hoffman has been featured in a segment on the Oprah Network and his ideas and work have been included in Good, the New York Times Magazine and Ready Made. He has also been published in books.
Hoffman is the custodian of You Are Beautiful, a project to better the world in little ways. The message has reached every corner of the globe, with over 2 million stickers shared. The hope is for us to share uplifting thoughts with each other.
Hoffman was recently recognized in the New City's Design Top 50: Who Shapes Chicago 2014 (March 2014), and was awarded Best Established Artist in the Chicago Reader's public poll (June 2014). For more information on Hoffman and his work, please continue reading.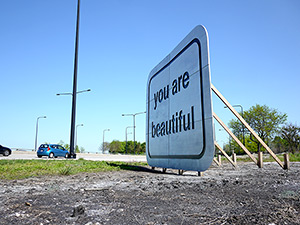 ILI: How long have you been an artist or when did you start? Was there a single incident or moment when you realized this was your passion and if so, tell us about it?
HOFFMAN: I was always a tinkerer and got heavy into woodworking at an early age. It wasn't until late high school, where I took a class in visual studies, that things began to spark. I studied graphic design in college. Where I'm at now is a mixture of all those things. Tinkering and experimenting, woodworking and making things, and design and communication have all blended together into my current method of working.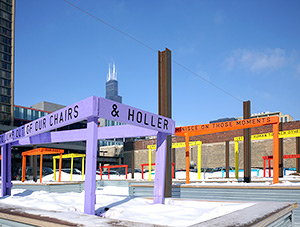 ILI: Illinois has been factored into your work in the past. What does being able to live and work in Illinois mean to you?
HOFFMAN: Illinois is a great place to work and live. I've found that the community of artists and designers are very giving and open to collaboration. We all work together, to help each other go further.
ILI: What opportunities does Illinois present to local Illinois artists?
HOFFMAN: There are many great grants and public art opportunities in Illinois. Whether it's a CAAP grant or a CTA commission, there are always new opportunities in the works.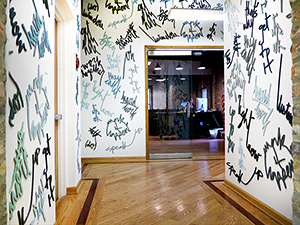 ILI: What do you like about Illinois?
HOFFMAN: I love Chicago and Illinois. It has a bit of everything, and it's all accessible. It's amazing how much there is to explore.
ILI: What is your favorite medium to work in?
HOFFMAN: Certainly wood, but more so text. I enjoy making pieces that say something and put them out in the public. This way, anyone can come across them, and get something out of it.
ILI: Where can people view or purchase your work?
HOFFMAN: You can purchase my work online here: http://you-are-beautiful.com/collections/matthewhoffman. And available stores here: http://you-are-beautiful.com/pages/stockist.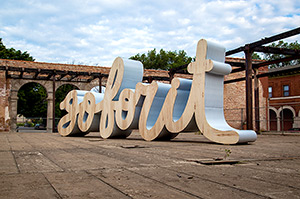 ILI: What artist inspires you and why?
HOFFMAN: What's great about Illinois is that there is so much hardworking talent here. Alicia and Robert of Unison, Aaron and Raaja of Bucket Feet, Phil of Bow Truss and Space, Alisa Wolfson of Leo Burnett, and the list goes on. People in Chicago & Illinois chasing their dreams, and making it a reality in the here and now.