Published: Monday, February 01, 2016 12:00 PM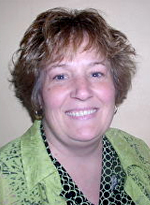 Yvonne Ham is a contemporary realist portrait and landscape artist. Ham was born in Peoria in 1962 and currently lives and works in rural Elmwood.
Ham's artwork reflects her fondness for family and interest in her local community. She is drawn to the people and events in everyday life. Impressions of events can be forgotten, and she hopes that through touching brush to canvas she stirs an emotional memory for the viewer.
Ham, an award winning artist, is a member of the Portrait Society of America. She is an associate member of Oil Painters of America, The Peoria Art Guild, Illinois Art League, Contemporary Art Center and the Galesburg Civic Art Center. She worked as the president of the Illinois Art League serving from 2005 through 2007.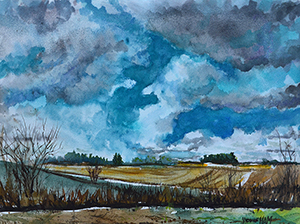 ILI: How long have you been an artist or when did you start? Was there a single incident or moment when you realized this was your passion and if so, tell us about it?
HAM: Before even walking through the Bradley campus and being mesmerized by all the art and pottery, I truly understood that I was an artist. When I was a small child my family was too poor for me to take art classes. There was no Internet, but I had my childhood imagination. While other children my age dumped sand on each other, I made mighty sand castles. When other children were playing, I was making crafts. When I was old enough to attend grade school, my misfortune continued.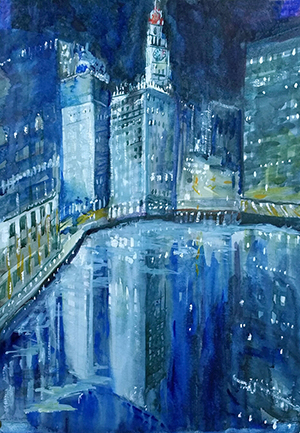 My school had recently just dumped its art program due to funding. However, it didn't stop me from being creative. In fact, I became an advocate for the arts in my school. I helped create plays for younger classes and helped a friend make the Trojan mascot that still stands in Whittier Grade School gym today in Peoria. By the time high school came, my thirst for more things art became larger. I spent more and more of my time in my new school's art department. During these years I was a photographer, sculptor and worked in theater.
When high school ended, I found myself at the steps of Illinois State University. However, the idea of the arts was at the back of my mind. I went to school to become a social worker. In 1985, I received my Bachelor of Science in social work. After three years serving as a social worker, I changed my path. I started to take classes at Illinois Central College for a Bachelor of Arts; realizing I wanted to fully commit to being an artist.
ILI: Illinois has been factored into your work in the past. What does being able to live and work in Illinois mean to you?
HAM: Illinois has a diverse landscape offering a wide range of places to paint. All in the same weekend, I can visit the bustling street life, architectural boat tours and a lakeshore bike path to get a wealth of reference photos to begin a new painting. I live in a rural farming community that also provides cultural re-enactments, historical farms, bridges and parks to keep me painting outdoors.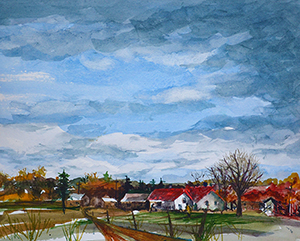 ILI: What opportunities does Illinois present to local Illinois artists?
HAM: The Illinois Arts Council Agency provides artist fellowship programs and a variety of other cultural outlets. A local program, ArtsPartners of Central Illinois, provides a supportive community for artists. Artists have the opportunity to show and sell their artwork each first Friday of the month sponsored by the Central Illinois Arts Organization. There are many art fairs and festivals to sell your art throughout the state, while the universities and colleges provide both continuing education and an opportunity to teach art. There are many galleries in the state to showcase a variety of art forms. One such institution is The Chicago Art Institute, which has lectures and shows that never fail to increase my knowledge in the arts.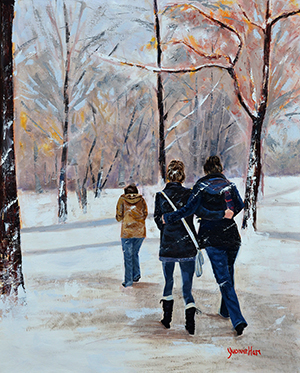 ILI: What do you like about Illinois?
HAM: I like the variety of Illinois's landscapes and people. I can travel a short distance to find rolling hills, lake views, city skylines, rocky sandstone cliffs and country, small-town living. The people of Illinois are welcoming and friendly. The art festivals, fall festivals, Chicago Jazz Festival and local small-town gatherings provide settings to capture on canvas.
ILI: What is your favorite medium to work in?
HAM: My favorite medium to work in is both watercolor and oil. I began painting in watercolor 25 years before adding oil. I guess I don't have a favorite. They both lend themselves to lifting, scratching and layering. The mediums push me to challenge my steps as each is different and unique. I do quick gestural paintings of both landscapes and portraits.
ILI: Where can people view or purchase your work?
HAM: I have a website at www.yvonneham.com. Here you can find my latest works of art. My newsletter and blog are the best source to stay up to date on my current process and thoughts as I paint. If you would like to follow my Facebook page, it is @ https://www.facebook.com/yvonnehamstudio/.
ILI: What artist inspires you and why?
HAM: I am inspired by John Singer Sargent's portrait works as well as outdoor watercolors. Joaquin Sorolla and Anders Zorn are also an inspiration because they both captured the astounding image of natural lighting so well. Contemporary artist includes Jeffrey Watts and Jeremy Lipking.