Published: Monday, February 01, 2016 04:51 PM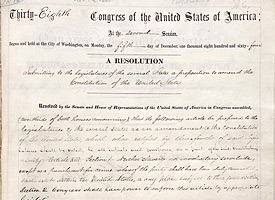 Illinois became the first state in the nation to ratify the 13th Amendment banning slavery on this day in 1865. Lyman Trumbull, a U.S. senator from Alton, co-authored the amendment that passed Congress and was sent to the states for ratification on Jan. 31, 1865.
Since the act amended the U.S. Constitution, 27 of the then 36 states in the Union needed to adopt the amendment in order for it to take effect. Georgia was the 27th state to ratify later that year on Dec. 6. The amendment was verified by Secretary of State William Seward on Dec. 18, 1865.
Learn more:
Read more about the 13th Amendment from The Library of Congress