Published: Monday, May 16, 2016 11:57 AM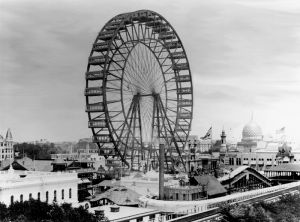 During the summer of 1893, Chicago hosted its first World's Columbian Exposition – more commonly known as the World's Fair.
The event, which ran from May through October, commemorated the 400th anniversary of the arrival of Christopher Columbus to the New World.
Among the most famous inventions featured at the 1893 World's Fair was the Ferris wheel built by engineer George Ferris. The wheel was 250 feet tall and had 36 cars, each of which could hold 60 riders, or more 2,000 people per ride.
The 1893 fair also helped to popularize a variety of American food products, including Aunt Jemima pancake mix, Juicy Fruit gum, Cracker Jacks and Pabst Blue Ribbon beer.
In all, 46 nations participated in the fair, which drew about 27 million visitors during its six-month run. The best attendance day was on Chicago Day, Oct. 9, 1893, when more than 700,000 people enjoyed the fair.
The 1893 World's Fair cost more than $27 million, not including more than $3 million that was spent by state, federal and foreign governments on their own exhibit buildings. The Jackson Park lakefront site alone cost $5 million to construct. More than 630 acres of Chicago property was used for the fair.
A few of the buildings constructed for the fair remain, including the Palace of Fine Arts, which now is home to the Museum of Science and Industry, and the World's Congress Auxiliary Building, which today is the Art Institute of Chicago.