Published: Monday, April 11, 2016 02:34 PM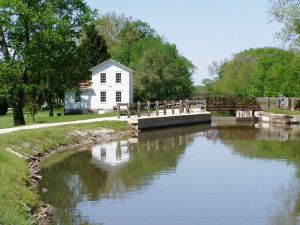 Yesterday, the Illinois and Michigan Canal celebrated its 168th birthday. Opened on April 10, 1848, the canal was built to connect the Great Lakes to the Mississippi River, leading to expanded growth of the Chicago region.
In 1822, the United States Congress approved a land grant for the young state to start building the canal. Construction would officially begin in 1836, but was delayed because of an economic depression that struck the country.
The canal was finished in 1848 at a cost of $6.2 million. The canal started functioning by mule-drawn towlines that would pull commodities from lock to lock along paths that ran the entirety of the 96 mile canal. By the early 1870s, the mules would be replaced by steam-propelled boats.
However, the expansion of railroad greatly diminished the use of the canal. In 1933, the canal ceased to operate entirely. The Civilian Conservation Corps would later restore several of the original 15 locks in an attempt to preserve history. In 1984, President Ronald Reagan signed a law that created the Illinois and Michigan Canal National Heritage Corridor.
Many communities arose from the creation of the canal, including Joliet, Lockport, Ottawa and La Salle.
For more information:
To learn more about the Illinois and Michigan Canal State Trail: click here.