Published: Tuesday, March 15, 2016 01:28 PM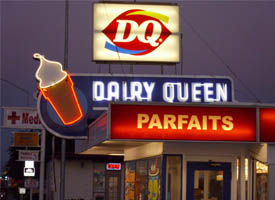 Dairy Queen is offering free vanilla ice cream cones today, March 15, in celebration of its anniversary.
The first Dairy Queen opened in June 1940 in downtown Joliet at 501 North Chicago Street. While the structure no longer houses a Dairy Queen, the building made headlines in 2010 when it received landmark status for being home to the first official Dairy Queen.
Illinois also played a role in developing Dairy Queen's trademark soft-serve ice cream. John Fremont and Bradley McCullough, Kankakee natives, developed the formula in 1938 and franchised it until the first location opened in 1940.
Dairy Queen has expanded to include more than 6,000 stores worldwide, many of them located in the United States.
Learn more:
World's First Dairy Queen Gets Landmark Status (CBS Chicago)