Published: Thursday, October 15, 2015 04:31 PM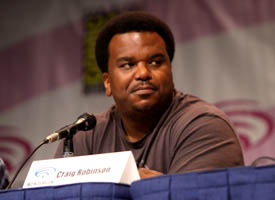 Actor Craig Robinson, best known for his role as Darryl Philbin on "The Office," was born in Chicago on October 25, 1971. He was raised on the South Side of Chicago and attended Whitney M. Young Magnet High School. After graduating, he went on to get his undergraduate degree from Illinois State University in 1994 and obtained his graduate degree in education from Saint Xavier University.
His stand-up career began at The Second City in Chicago, and in 2005, he took on the role of Darryl Philbin on "The Office." Following this role, Robinson appeared on "Arrested Development," "Lucky," "Friends," "Halfway Home," "Eastbound and Down" and "Last Comic Standing." In addition to acting, Robinson has dabbled in music, both as a comedy act in L. Witherspoon & Chucky and with his band The Nasty Delicious.
He has played a role in over 40 different films and television series since 2001, and has worked on multiple movies that are soon to be released. Robinson remains a fan of the Chicago White Sox and Chicago Bears.
Learn more:
Read more Robinson's work on IMDb