Published: Wednesday, December 07, 2016 04:03 PM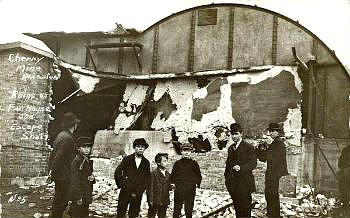 A tragic coal mine fire in Bureau County 107 years ago was the impetus behind Illinois becoming a national leader on workers' compensation and workplace safety laws.
In 1909, the Cherry Mine in Bureau County employed more than 500 men and produced 1,500 tons of coal daily to fuel locomotives for the Chicago, Milwaukee and St. Paul Railroad. Immigrant mining families flocked to Cherry for steady employment in what was considered one of the safest mines in the country at the time.
On Nov. 13 that year, a kerosene torch dripped hot oil on a cart of hay for the mules that worked inside the mine. The hay smoldered unnoticed and a blaze eventually erupted, blocking the escape of many of the miners working that day. When all was said and done, 259 of them perished from burns and asphyxiation, leaving behind 500 fatherless children and 160 widows.
Donations poured in for the victims' grief-stricken families, and a settlement was reached with the railroad company. The families received $1,800 each to help make up for the loss of life and income — about $45,000 today adjusted for inflation and far less than a family could live on for any length of time.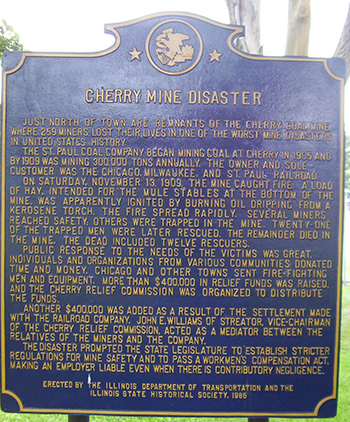 Human error and problems with the mine's design contributed to the death toll. It remains one of the worst mining accidents in U.S. history.
Spurred by public outrage, Illinois state lawmakers quickly acted to ensure better oversight of the mining industry, improve safety standards and establish a workers' compensation system, making the state a national leader. In 1911 Illinois became the third state to establish a workers' compensation system; Maryland passed a law in 1902, and Wisconsin passed one earlier in 1911.
A historical marker erected in 1986 by the State of Illinois at the site of the Cherry Mine accident tells the tragic tale and notes the state's progressive response.
"The disaster prompted the state legislature to establish stricter regulations for mine safety and to pass workmen's compensation act, making an employer liable when there is contributory negligence," the marker reads.