Published: Tuesday, October 21, 2014 02:36 PM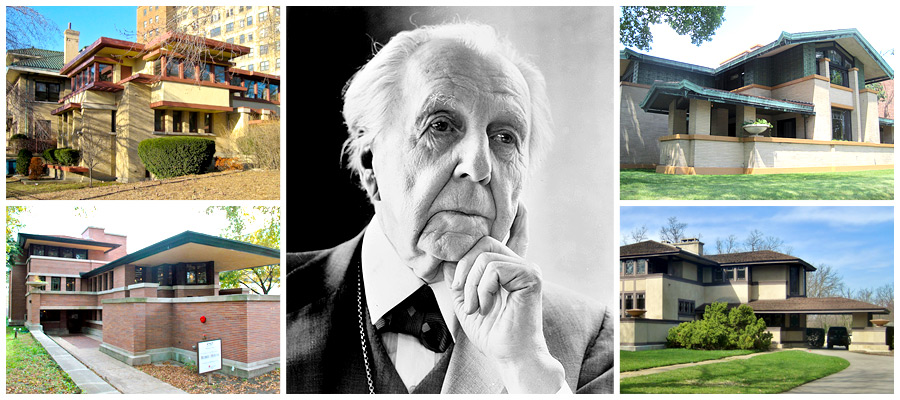 "Every great architect is—necessarily—a great poet. He must be a great original interpreter of his time, his day, his age." – Frank Lloyd Wright.
In 1887, 20 year-old Frank Lloyd Wright moved to Illinois to study under the famed Adler & Sullivan architectural firm. Wright helped Dankmar Adler and Louis Sullivan reshape Chicago's landscape after the Great Chicago Fire of 1871. For six years, he helped restore the city's skyline and make Chicago an architectural capital.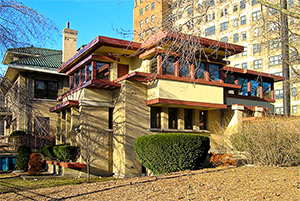 Rebellious and creatively stunted, Wright secretly designed houses in Oak Park as an expression of his love for nature. The low-lying, geometric houses became notable characteristics of his new Prairie Style Architecture. The architecture reflected the geometric shapes and colors of the surrounding landscape.
Wright believed structures were extensions of their environment. Long horizontal lines, flat roves and broad eves made his houses different. He played with the use of space, the structural frame and experience of navigating through the buildings. He mixed function and aesthetic by interpreting a family's need and a neighborhood's aura.
"Every great architect is –necessarily—a great poet," Wright said. "He must be a great original interpreter of his time, his day, his age."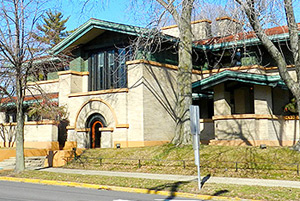 As a true interpreter of his time, he decorated Illinois' landscape with more than 180 homes and buildings. The Frederick C. Robie House, with architectural elements replicating the bow of a boat, is one of his most famous homes. Building off nature, he designed the house so the original homeowners could feel like they were sailing on Lake Michigan. In 1910, the lake could be seen from present-day University of Chicago.
Wright's other famous Illinois buildings include the Dana-Thomas House in Springfield, the B. Harley Bradley House in Kankakee, and the Frank W. Thomas House and Unity Temple in Oak Park.
Wright's work spread across the country with his famous Taliesin studio, a home for young architects, which turned into the Frank Lloyd Wright School of Architecture. Other notable work includes Fallingwater, a house jutting out of limestone that looks like slabs of stone, and the Guggenheim Museum, a fixture in American architecture.
Learn more:
Frank Lloyd Wright at Artsy.net
Frank Lloyd Wright houses in Illinois
Modern Home Designs by Frank Lloyd Wright
Prairie Style Architecture
The official Frank Lloyd Wright website