Published: Tuesday, January 07, 2020 11:44 AM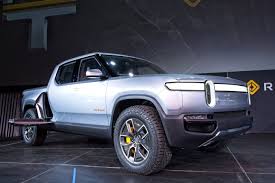 Rivian, a new electric truck manufacturer and competitor to Tesla, is gaining support from investors at both Ford and Amazon opening a factory in Normal. Rivian brought in almost $3 billion from investors in 2019 and looks to use that money in Illinois to start rolling off the line by the end of 2020.
The automotive company also plans to secure its place in the market by supplying Amazon with 100,000 electric vans starting in 2021. Rivian recently said 2020 will be a transformative year where people will learn what goes on in the production facility. The company noted with the level of investments and new hires coming in 2020, it will demonstrate the platform they plan to create with these new vehicles.
The 250-employee plant in Normal is now expecting large scale renovations and hundreds of more to hire within the comping year as Rivian continues to upscale their production to match the current market swings of electric and green focused transportation. The trucks have been showcased to go from zero to 60 miles per hour in three seconds with up to 400 miles traveled in a single charge -- showing new green changes coming to the roads of Illinois in 2020.
To read more: Click here