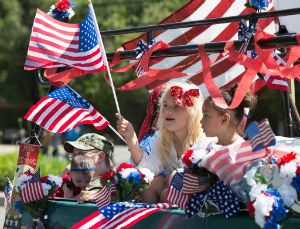 What better way to celebrate Memorial Day than spending time with your family and honoring all the brave men and women who gave their lives to make this country what it is? Below are some Memorial Day parades and ceremonies in the Chicagoland area over the weekend.
Chicago
Chicago is starting Memorial Day Weekend with a wreath laying ceremony and parade at 11a.m. on Saturday, May 26 at the Eternal Flame on Daley Plaza. Following the ceremony, there will be a parade promptly at noon that will go south on State Street from Lake Street to Van Buren.
The Norwood Park Memorial Day parade will begin at 11 a.m. on Monday and end with a ceremony at approximately 12:15 p.m. The parade will begin at Onahan School and travel west toward Northwest Highway, ending at Taft High School where the ceremony will take place.
North/Northwest Suburbs
Lincolnshire Memorial Day Ceremony
At Lincolnshire's ceremony, Captain Raymond C. Leung of the U.S. Navy will speak at 10 a.m. on Monday at Spring Lake Park. The Daniel Wright Middle School band and color guard will perform at the event. After the ceremony, the Sea Cadets Division 911 will retire a worn American flag. Those who plan on attending may also bring flags to retire.
Lincolnwood Memorial Day Parade
The parade will begin at 10:20 a.m. on Monday at Madeleine's Garden. The parade will start at the corner of Cicero and Pratt Avenues and will end in Proesel Park at Madeleine's Garden, where a ceremony will be held at 11 a.m.
Lincolnwood's parade allows children ages eight and under to participate by riding bikes, scooters and wagons decorated in a patriotic theme. Children participating must be accompanied by an adult and all riders must wear helmets.
West Suburbs
Battle of Cantigny 100th Anniversary
In Wheaton, there will be a 100th anniversary celebration of the famous World War I battle where the U.S. Army liberated the French village of Cantigny from German occupation. The celebration will include a wreath-laying ceremony, a poppy display, World War I themed family activities, military vehicles and a World War I themed photo booth. To end the celebration, the Illinois Brass Band will perform at 3 p.m.
Naperville Memorial Day Parade
The Naperville Memorial Day Parade will include 17 different marching bands and will begin at roughly 10:30 a.m. at Jackson and West Street. It will end at the Saints Peter and Paul church parking lot.
South Suburbs
Beverly Area Memorial Day Parade
Before the parade kicks off, the Beverly Area Planning Association's 41st annual Ridge Run will take place where more than 3,000 athletes will gather to compete. There will be entertainment, food, children's activities and special guests at Ridge Park following the race.
The parade will begin from 110th Street and Longwood Drive at about 10 a.m., and march north to Ridge Park. After the parade, the BAPA will have a wreath-laying ceremony along with a color guard at Ridge Park.
The Homewood Memorial Day Parade will start at 10:30 a.m. and travel south on Dixie Highway before ending at Veterans Park for a Memorial Day ceremony. The ceremony is to remember, reflect and honor those who have served, are serving and those who have given their lives for this country.