Published: Tuesday, August 18, 2015 01:51 PM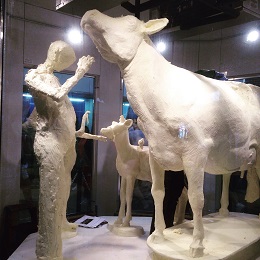 The Illinois State Fair Butter Cow has long been a celebrated fair tradition. For over 90 years, the fair has featured this staple item. The butter cow uses 500 pounds of unsalted butter and can take up to 120 hours of work.
For the last 20 years, Sharon BuMann has been the artist behind the sculpture. This year, however, will be her last. The sculptor's farewell piece features a grandfather showing his granddaughter about life on the farm alongside the main attraction, the cow. The inspiration for BuMann's art comes from her family farm.
BuMann's work isn't limited to the butter cow. She has also sculpted a number of different types of life-size butter sculptures. From astronauts and Darth Vader to the Blues Brothers, BuMann has truly mastered the art of butter sculpting.
Although this is BuMann's last butter cow at the state fair, she plans to pursue literary endeavors and write a book about the exciting world of butter art.
Butter isn't the only medium she works with. BuMann also works on traditional bronze sculptures, as well as bronze restoration.
Although the fair has come to an end, the hype of the butter cow still persists. I Like Illinois had the chance this week to talk to Sharon BuMann about her work on the famous butter cow.
ILI: How did you get your start with butter sculpting?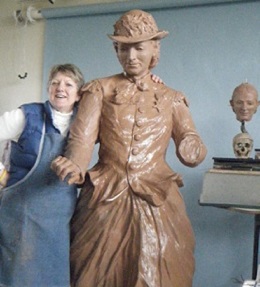 BuMann: I have been a professional sculptor most of my life. One day my husband was reading ads in the newspaper, and the New York State Fair and the American Dairy association were looking for a new sculptor.The fair is about 25 miles from my house, so I applied. The rest is history.
ILI: What other states do you do butter sculptures for?
BuMann: Oklahoma, Kansas, New York and Texas.
ILI: You have said that this year is your last. Why?
BuMann: I am going back to doing bronze monuments full time. I have been doing this for 20 years, and therefore it has been 20 years since I have had a summer vacation. While most people are out enjoying the summer heat, I am in a refrigerator. I also have five grandsons I want to spend time with.
ILI: I heard you were writing a book, can you tell me about that?
BuMann: When I started sculpting, I was into my second year, maybe third; I realized there were so many adventures that were happening as a result of my traveling and being on the road. I thought it would be an interesting read for people, so I decided to start writing about it.
Butter sculpting is a lot more adventurous than people think. It's cold, and each piece requires 60-120 hours to make. That is a lot of time in the cold. You have to dress warm, and I always wear a double layer of rubber gloves because I don't really like touching the butter. It is actually really difficult to get the smell of butter off your skin.
ILI: What is your favorite thing about the Illinois State Fair?
BuMann: The people. I love the people of the Illinois State Fair. They make it fun to go to.
Related Aricles: