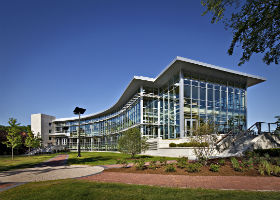 Lewis University has been named one of the best colleges for veterans, ranking fifth in the United States and first in Illinois, by College Choice, an independent ranking organization that utilizes data-driven research and methodology to help students and families find the best schools.

College Choice reviews a number of factors including institutional excellence, student satisfaction and return on investment to help develop its rankings.

Located in Romeoville, Lewis University offers more than 80 undergraduate majors, including options for Air Force ROTC through the Aerospace Studies program and Army ROTC through the Military Studies program. The university has also partnered with the Department of Defense to provide affordable, high-quality education globally.

The university has an Office of Veterans Affairs and Recruitment which assists and supports veterans and their families. It offers reduced tuition rates for active-duty service members. Lewis University is also a partner in the Yellow Ribbon GI Education Enhancement Program, which allows qualified post-9/11 veterans to enroll in more than 100 approved education programs, tuition free.

Other Illinois colleges that made the top 50 include:

Number 11 – Western Illinois University
Number 45 – University of Illinois at Urbana-Champaign
Number 46 – Southern Illinois University-Carbondale

Lewis University has also been recognized for its military-friendly atmosphere by GI Jobs and Military Times.