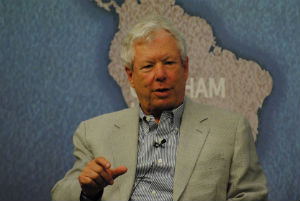 University of Chicago professor Richard H. Thaler – whose work has persuaded many economists to pay more attention to human behavior and government officials to pay more attention to economics – was awarded the 2017 Nobel Prize in Economic Sciences on October 9.

Thaler, who teaches economics and behavioral science at the University of Chicago Booth School of Business, is a leading expert in a relatively new field that combines psychology and economics. He is considered a pioneer for moving economics toward a more realistic understanding of human behavior, and for using the resulting insights to improve public policy.

Born in East Orange, New Jersey, Thaler received his undergraduate degree from Case Western Reserve University in 1967 nd his PhD in economics from the University of Rochester in 1974. He has spent his career developing an idea that challenges mainstream economics: humans aren't always rational and they don't always act in their best interests.

He is the coauthor of Nudge: Improving Decisions About Health, Wealth, and Happiness, a best-selling book that discusses how public and private organizations can make better choices daily. The book details ways to "nudge" people to save more for retirement, drive safely, go to better colleges and participate in free school-lunch programs.

Thaler also maintains that governments can use behavioral insights to improve the quality and efficiency of a wide range of public services. Two years after Thaler's book was published, the British government created a department to pursue some of Thaler's insights. Nicknamed the 'Nudge Unit,' it is credited with dramatically improving responses to income tax letters by reminding recipients that most of their neighbors had already paid.

Thaler also appeared in the 2015 film "The Big Short," where he delivered a tutorial on the history of economics to better understand the 2008 financial crisis.

When announcing Thaler's award, the Nobel Prize committee praised Thaler's innovative idea that people are predictably irrational. The committee also lauded him for building a bridge between the economic and psychological analyses of individual decision-making.

After learning that he had won the Nobel Prize, Thaler told The New York Times his most important contribution to economics was the recognition that economic agents are human and that economic models have to incorporate that.

Thaler is the fourth Illinois professor to receive a Nobel Prize within the past 10 years. Past recipients include Sir Frasser Stoddard, a professor of chemistry at Northwestern University, Eugene Fama, a professor of finance at the University of Chicago, and Lars Peter Hansen, a professor of economics and statistics at the University of Chicago