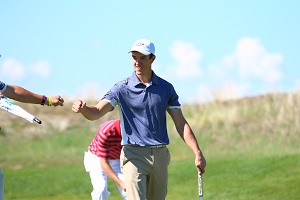 Talon Supak's junior year at the University of Illinois at Springfield ended on a high note this spring.
He became the first individual UIS student to qualify for an NCAA Division II National Championship Tournament and represented the UIS Prairie Stars at the NCAA Division II National Golf Championship in Denver in May.
Supak was born and raised in Washington near Peoria. He lived in Japan for three years until his sophomore year of high school, when he moved back to Illinois to play high school golf and earned a college golf scholarship.
Supak chose UIS because of the opportunity it provided him to play the highest quality competition available to him, but he also understood the importance of a quality education.
"The academics of the school were very enticing since I would be able to earn a U of I degree," he said.
Supak enjoys UIS because of its size and class offerings.
"I am able to know and communicate with most of my classmates," Supak said. "The faculty also respects and understands that I will miss class due to golf tournaments and they ensure that I am able to complete my assignments and keep up in class."

Supak became the first golfer to qualify for nationals by winning his regional championship in Michigan in early May.
"It was a huge honor to represent UIS at the National Championships," he said. "To be recognized as the first of what will be many teams and individuals to make it to nationals is a great privilege."
As a lifelong resident of Illinois and a golf enthusiast, Supak said he has come to appreciate the state's unique weather and seasons.
"My favorite thing about Illinois is the vast type of weather that we receive each season," he said. "Applying specifically to golf, I felt that I have become a better player since I have played in all types of climates."
After he completes his bachelor's degree, Supak plans to remain at UIS for another year to take enough classes to be able to sit for his Certified Public Accounting exam. But after his education he would like to become a professional golfer.
Photo Courtesy of University of Illinois at Springfield Athletic Department