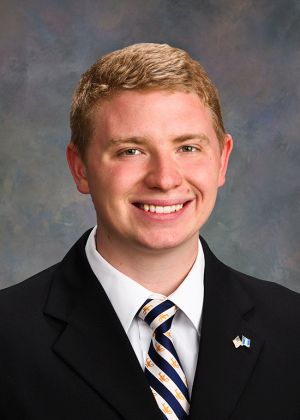 Throughout his time at Western Illinois University, Wil Gradle has made helping other students a top priority. During the past year, Wil spent a lot of time in the Illinois State Capitol advocating that the state sufficiently support higher education and more specifically for excellent institutions like WIU.
Wil has been a lifelong resident of Illinois, representing the western suburb of St. Charles. Now he lives permanently in Macomb while he attends Western. Currently, this summer Wil is representing WIU at an internship for Catepillar in Peoria.
When choosing a college, Wil said that WIU offered an excellent education for an affordable price.
"Initially, I began looking at Western Illinois because of its reputation in the law enforcement world," Gradle said. "Then, I factored in the reality that WIU is an incredibly affordable school. Had I attended another one of the institutions I looked at, I would've ended my college career paying nearly $100,000 more for a lesser education."
It was hard for Wil to pick one top memory of his time at Western. But one thing that stood out for him was those educating him.
"I will say that my favorite thing about my time at WIU has got to be my professors," Wil said. "Never in my academic career have I met people so concerned with the growth of the whole person, not just the academic."
Wil recently completed his term as the student body president at Western Illinois. He cites his advocacy for students and higher education as a dominant factor into his position. He even organized a "state of the student" address discussing how the budget impasse affects college students. Illinois' higher education infrastructure has been, and can be with proper investment a competitive advantage nationally and internationally.
"By properly funding higher education in Illinois, we can ensure our competitive advantage on the national and international stage," Gradle said.
Driving Wil's love for Illinois is its regional diversity from big cities to rural communities. Living in the suburbs allowed Wil to flourish and live close to a world-class city like Chicago. Then after a couple hours of driving, Wil was able to realize a completely different but equally appealing environment in Macomb and throughout central Illinois.
"There is something unique about every region of the state," Wil said. "That's my favorite part of living in Illinois."
Wil looks to earn his master's degree in economics from Western Illinois. After that, he looks to go into developmental economics to help struggling businesses and communities to foster growth. Wil is another example of excellence in our institutions of higher education.
Photo courtesy of Western Illinois University.