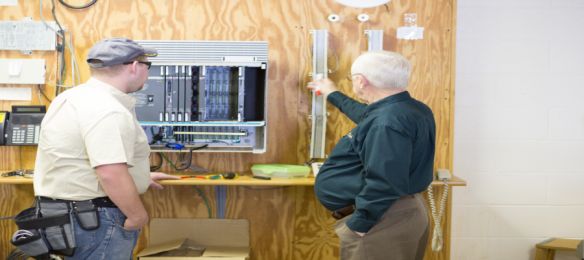 High school students looking to start a career in telecommunications may find a unique opportunity at Lincoln Trail College in Robinson.
The college, which is part of the network of Illinois Eastern Community Colleges, offers an opportunity for students to assist in maintaining and improving the broadband infrastructure through their broadband telecom program. The program, offers a variety of skills needed to be successful in the field of telecommunications and is the only one of its kind in Illinois and just one of a small group nationwide.
Jesse Allen, director of the broadband telecom program, emphasized the importance of the program for the state of Illinois by creating qualified workers in the telecommunications field.
"As the demand for quality broadband speeds and connections increase to homes in rural Illinois, our students are at the forefront of the future growth the industry will experience," Allen said.
Students learn such skills as splicing and maintaining fiber optic and copper cables, home and business telephone systems, and central office switching. Students are also required to take courses in communication and customer relations to prepare them for the careers they are about to step into.
The students in the program also understand the importance of supporting their communities while in school. Recently, the broadband telecom student club provided services to several community organizations, including fixing bad cables between two local schools.
According to the National Broadband Map, launched by the National Telecommunications and Information Administration, three in four Americans now use broadband in their homes. Broadband Illinois shows that nearly 70% of households have broadband access in the state.
The program offers a two-year degree and opportunities for internships and specialized classes in business communication systems and developments in telecom.
For more information about the program visit: http://www.iecc.edu/page.php?page=LTCH_PRGM&acad=reqm&acadc=708