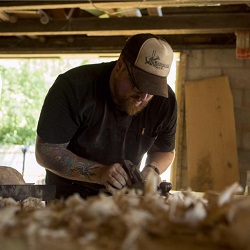 Micah Wall is an artist based in Edwardsville who specializes in woodworking and personalized craftsmanship. He founded his own business called Unnatural Resources and prides himself in working with his hands and tools to bring beauty into our everyday lives and spaces.
Coming from a long line of craftsmen, the spirit to create and design is something he considers part of his DNA. He specializes in bringing others' visions to reality and bringinging out the natural beauty in his materials.
ILI: How long have you been an artist or when did you start? Was there a single incident or moment when you realized this was your passion and if so, tell us about it?

I think I've been an artist since birth. I remember when I was little I would always be tearing apart toys and reassembling them to new, "cooler" toys. I think that just evolved as I grew older. When I was around 8 or 9, I remember building my first playhouse with the help of my neighbor. My grandpa built houses and lived nearby so there was always scrap wood around. I think that summer we built four or five tree houses total out of the timber behind my parents' house. That was one of the best summers ever. I just woke up every morning, grabbed an old hatchet I had with a hammer head on the back, a bag of nails and we would go out into the woods and cut down small trees and make stuff. We even camped in some of them for years. I didn't know it then, but that was probably when I realized that my passion was making things. ANYTHING.

ILI:Illinois has been factored into your work in the past. What does being able to live and work in Illinois mean to you?

It means a lot. My family has been in this country since the early 1600s and in Illinois since around the time it became Illinois. They've always been makers and doers: carpenters, blacksmiths, mechanics, farmers. It's nice to continue that tradition in the place that helped form it.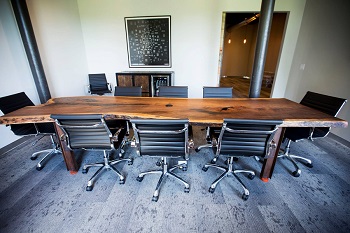 ILI:What opportunities does Illinois present to local Illinois artists?

I think it's nice that we aren't in a flooded market, especially those of us in the southern part of the state. The market is still competitive, but there's space and room for growth. Also being centrally located is nice if you do want to expand. I have friends that go to shows in Los Angeles and New York and sell almost exclusively to customers they find at those shows. But they still call Illinois home.
ILI: What do you like about Illinois?

I would say the history and diversity. I'm a four-hour car ride away from one large metropolitan area and 20 minutes from another, but I'm also less than five minutes away from being able to drive for an hour through nothing but cornfields. I'd go crazy living in a large city, but I still desire the culture and diversity you can find within.
ILI: What is your favorite medium to work in?

For the past several years it's been wood. I make a lot of large tables. Conference tables and dining tables are always in demand, although I'll make any type of furniture if presented with the opportunity. I love making shelves, small tables, coffee tables, benches, anything. I've been moving more and more into metal though. A few years back I built my first forge and started moving metal with a hammer and anvil. It started as a stress release but it's moving more and more towards a new body of work. I'm still learning so much about different metals and their alloys; it's a lot more complicated than wood. Who knows where it will go in the future.
ILI: Where can people view or purchase your work?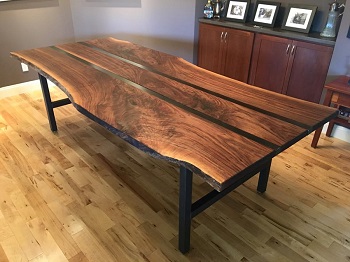 People can view my work on my website www.unnaturalresources.net I do not currently have my work in any stores. For the most part I don't build furniture just to build it. I like to make custom pieces and work with my customers to design something THEY want. I do make a lot of other small items though both out of wood and metal. I've made spoon rings for close to a decade. You can find me with those at a lot of art and craft fairs around the Midwest and specifically the St. Louis Metro East area. Two years ago, I started my own arts and crafts show called E'ville Indie (short for Edwardsville Independent Artists). It's now held twice a year, the Saturday before Halloween and the Saturday before Christmas. This year it will be held at The Mannie Jackson Center for Humanities in Edwardsville. We are expecting over 50 other artists!