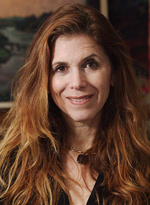 Nina Weiss is an artist based in Chicago who has been painting and drawing landscapes for over 30 years. She spent 18 of those also teaching at the School of the Art Institute of Chicago and other various appointments.
Coming to the Midwest after growing up on the East Coast, Weiss was enthralled by the wide open fields and drawn to depict this new and exotic landscape. She seeks to create a heightened view of the natural world with dramatic, lush and complex colors beyond the expected greenery. Rhythm, light and color all dominate her wonderful prairies and waterways, many of which are local in Illinois.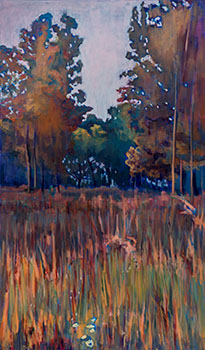 ILI: How long have you been an artist or when did you start? Was there a single incident or moment when you realized this was your passion and if so, tell us about it?
Weiss: One of my favorite childhood memories is drawing a mural in crayon on the floor with my Dad, on medical center paper used to cover examining tables! I spent a lot of time in my room painting and drawing. I was very fortunate to live near Manhattan and frequently visited museums and galleries. My first art lessons began at age 11, and at age 13 and throughout high school I traveled into Manhattan every Saturday to attend the Art Students League. I knew I wanted to be an artist at a very early age! I began college at 16, skipping grade 12 to study at Tyler School of Art. I haven't stopped since!
ILI: Illinois has been factored into your work in the past. What does being able to live and work in Illinois mean to you?
Weiss: When I moved from the East Coast to the Midwest to attend graduate school, the landscape opened up for me. I began biking long distances and loved being out in the fields and farmlands. My recent work incorporates the disappearing prairie landscape that can still be found in preserves throughout Illinois.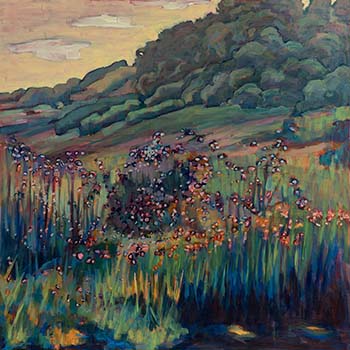 ILI: What opportunities does Illinois present to local Illinois artists?
Weiss: I am a New York transplant. After graduate school in Wisconsin, I chose to move to Chicago to begin my life as an artist. I found supportive communities (Bucktown, Wicker Park; Humboldt Park) where artists could rent huge lofts and reasonable apartments. There were galleries, coffee shops, and institutions like the Chicago Artist Coalition to support us. Teaching opportunities at the many universities and colleges ensured a more reliable income, and I was able to support myself as an adjunct professor at the School of the Art Institute of Chicago and Columbia College Chicago. I served as a panelist for CAAP Grant awards and was a member of the Illinois Artisan Gallery. There are many resources available to artists in the Chicagoland area, and I continue to forge relationships with art consultants, art leagues and local businesses that support the arts. I serve as juror and judge for the many summer art fairs throughout Illinois where local communities can be exposed to a variety of art forms. Illinois has a healthy appreciation and love for the arts!
ILI: What do you like about Illinois?
Weiss: As a landscape painter, I am in love with the big, beautiful, open landscape so easily accessible from the city! I love biking through the safety of the open roads in the nearby countryside, through the cornfields and small towns.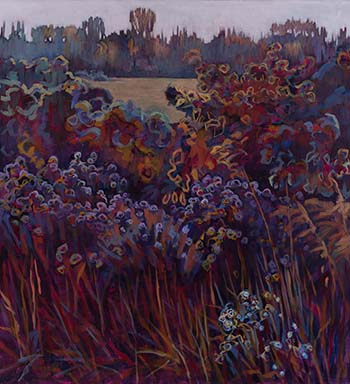 ILI: What is your favorite medium to work in?
Weiss: I was trained as an oil painter, and after graduate school I explored chalk pastel drawings. I have been working for many years in oil again and am now working on a series of large-scale oil paintings based on the Illinois prairies.
ILI: Where can people view or purchase your work?
Weiss: I have a studio/showroom in Highland Park that is open by appointment and am represented by the Groshek Gallery in Chicago. I am represented in Saugatuck, Michigan, by the J. Petter Galleries, in Indianapolis by the Editions Limited Gallery, and in galleries in Providence, R.I., and Islesford Island, Maine. My work can be seen at ninaweiss.com and on the website Saatchi.com. My teaching videos can be viewed on the Craftsy website and Prismacolor.com. I will be featured in a one-person show at the Art Center Highland Park in July 2018.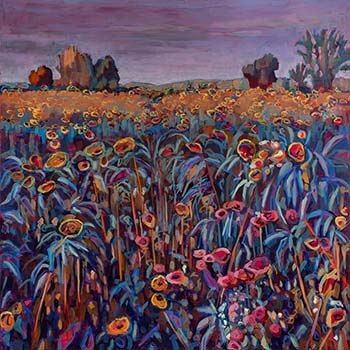 ILI: What artist inspires you and why?
Weiss: When I was in art school I admired the work of the German Expressionists, Blue Rider Group and Viennese Secessionists. I am inspired by their use of bold, expressive color and forms. I love the landscape work of the Canadian Group of Seven who interpreted the landscape in very personal, lively brushstroke and color.