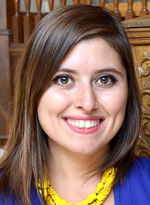 Hale Ekinci is a Chicago-based Turkish artist focusing on narrative and intercultural connections. She completed her MFA in Interdisciplinary Art and Media at Columbia College Chicago and is currently teaching at North Central College.
Her work consists of mixed media, installations, collages and illustrations to touch on social issues, traditions and political unrest. For example, in her installation Let's Resist she uses photo, video and interactive yarn to "commemorate non-violent resisters and spread their individual stories," in an attempt to abstractly document the Gezi Park Protests in Istanbul.
Her work provides a platform for people of all kinds to contemplate cultural customs, current issues, transmuted memories, idioms and translations that make up our world.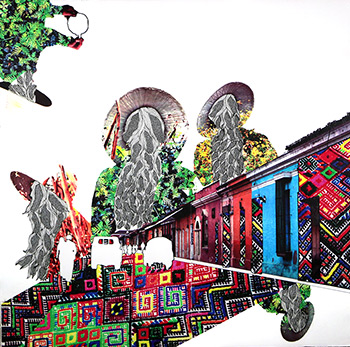 ILI: How long have you been an artist or when did you start? Was there a single incident or moment when you realized this was your passion and if so, tell us about it?
Ekinci: Art was always something I enjoyed but it felt a bit selfish. It really became a passion around the time of high school when I was introduced to social realism of the Turkish painter Neşet Günal. I realized that art didn't need to be merely for personal pleasure, but could have a meaningful impact on others and the society. I think that was the moment I decided that I could make art and still make a difference. This realization warmed me up to making art more seriously and a desire to share it with others.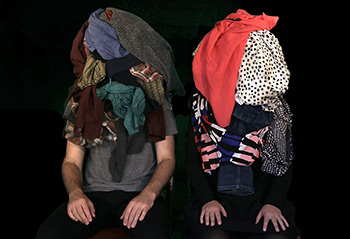 ILI: Illinois has been factored into your work in the past. What does being able to live and work in Illinois mean to you?
Ekinci: A lot of my work is about being away from my native land, Turkey, and translation of language, culture and traditions between places. Illinois plays a factor in this for providing me a home where I feel inclined to meld different cultures together. On a more pragmatic level, being at the center of everything, the close proximity to one of the major airports in the nation and a cultural capital are all very helpful as well.
ILI: What opportunities does Illinois present to local Illinois artists?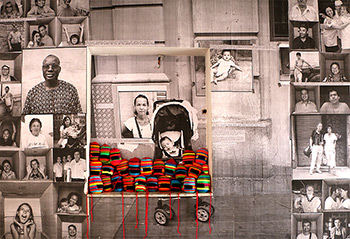 Ekinci: Until recently I was mostly involved in the Chicago art scene, which is very vibrant and full of opportunities for artists. I have exhibited at different institutions, collaborated with local artists, attended many free cultural events and networking opportunities. There are so many possibilities to participate in cultural activities in Chicago that one can't even attend all of them.
ILI: What do you like about Illinois?
Ekinci: I think the best part is people's attitude. Everyone I have met in the field is friendly, open, hardworking and willing to help and share. This is not the case in art circles everywhere. I have had many opportunities just through the people that I know and the chain of support keeps growing. I am also inspired by the passion in smaller towns as well like West Chicago, where I had a pop-up show recently and might be joining their efforts to bring more art into the community.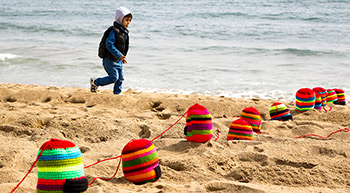 ILI: What is your favorite medium to work in?
Ekinci: I must say I always go back to drawing and illustration no matter what I'm working on. Recently, I have also been enjoying making crochet sculptures. Videomaking and editing images/videos on the computer are very fun for me as well but require a lot more planning, which is a lot more time-consuming that I don't get to do very often.
ILI: Where can people view or purchase your work?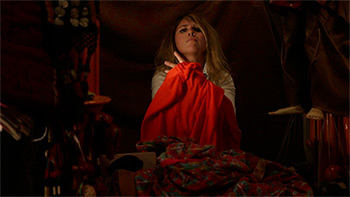 Ekinci: haleekinci.org is a good place to start to view my work and then people can contact me in person. I have a poorly tended Etsy shop that I'm working on improving and a more up-to-date presence on instagram @haleart. I regularly have exhibitions as well. They can view my mixed media photographic drawings at Harold Washington Chicago Public Library during Hispanic Heritage Month in October and my textile installation at Preston Bradley Art Center in Chicago around the same time.
ILI: What artist inspires you and why?
Ekinci: Wangechi Mutu for the way she mixes media, patterns, textures and cultural details into her vibrant compositions and videos. Miwa Matreyek for her formal choices and techniques, I find it very similar to mine visually and fascinating. Recently I came across the work of Sharon Paz in video installation that is very inspirational both in technique and the political message it contains.