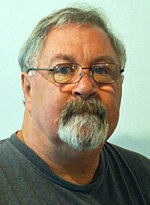 Christopher Brennan is a painter based in Alton who draws inspiration from Midwestern towns and cities.
His depictions of everyday scenes evoke feelings of familiarity as viewers are transported to spaces seemingly part of their own memories. Focusing on urban and natural landscapes, his work is introspective in nature and provides imagery that allows the mind to wonder and explore.
When not painting himself, Brennan teaches art at the collegiate level, currently at Lewis and Clark Community College in Godfrey.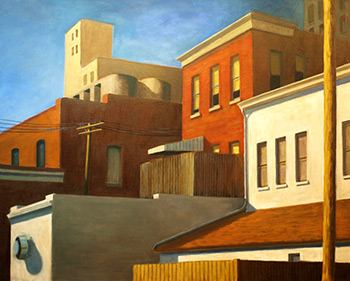 ILI: How long have you been an artist or when did you start? Was there a single incident or moment when you realized this was your passion and if so, tell us about it?
Brennan: I started drawing regularly at a very early age, perhaps around 4 or 5. My mother was a painter and so she inspired me tremendously and encouraged me constantly. I remember going into her basement studio and being amazed at the magic that occurred at her easel and wondering how she did it. As a result, I made the commitment very early on to become an artist and eventually went on to earn an MFA in painting, and I have since been teaching art at the collegiate level for 17 years.
ILI: Illinois has been factored into your work in the past. What does being able to live and work in Illinois mean to you?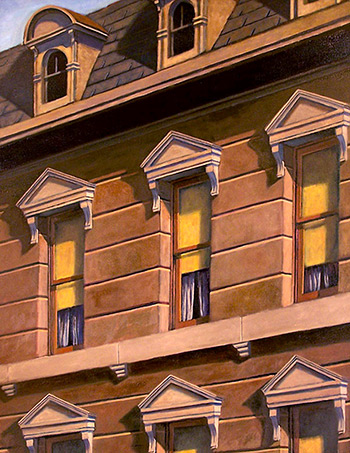 Brennan: The urban and natural landscapes of Illinois provide a wealth of visual stimulus for my artwork. While I occasionally dabble in natural landscape painting, the majority of my paintings embrace architectural subjects and the play of light and shadow on those structures. In particular, the historic architecture of smaller towns like Alton offers plenty of inspiration.
ILI: What opportunities does Illinois present to local Illinois artists?
Brennan: All throughout Illinois there is a vast array of places to see art, from commercial galleries to museums to non-profit and community spaces. Likewise, the state also has numerous art and craft fairs for artists. And for those who are near the larger metropolitan areas, great art can be seen at the Chicago Art Institute and the St. Louis Art Museum, among other places.
ILI: What do you like about Illinois?
Brennan: Illinois has a wide range of scenery and cultural experiences, and it has close proximity to a number of large cities in neighboring states. In Illinois one can visit the great museums and galleries in a large urban area like Chicago, or see some smaller, more local venues in places such as Mount Vernon – home of the Cedarhurst Art Center and Mitchell Museum.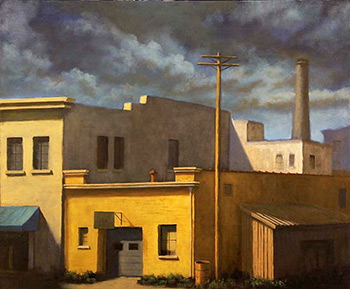 ILI: What is your favorite medium to work in?
Brennan: I work primarily in oil, but will occasionally paint with acrylics. I also work in drawing media, including charcoal, Conté and pastel.
ILI: Where can people view or purchase your work?
Brennan: My work is represented by the Strecker-Nelson Gallery in Manhattan, Kansas and my work can also be viewed and/or purchased at www.christopherbrennan.net.
ILI: What artist inspires you and why?
Brennan: Besides my mother, I have been most influenced by the work of Edward Hopper, the 20th century Realist painter. His sparse urban landscapes and dramatic use of light and shadow combine to effectuate some very powerful and poignant images.