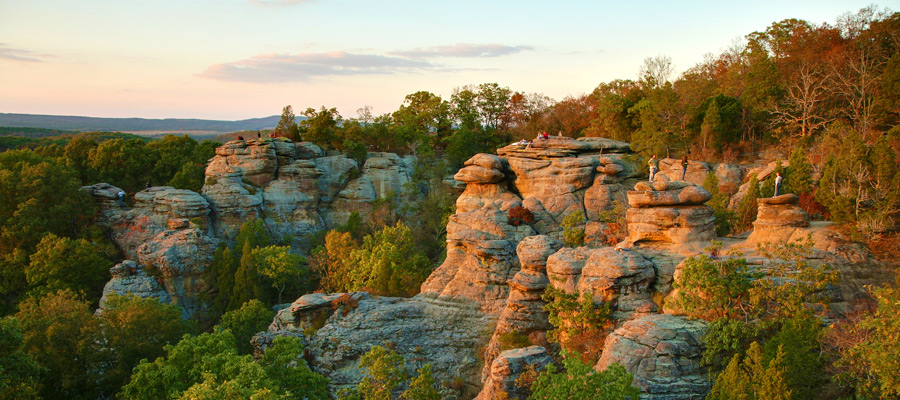 Illinois' history is littered with famous accomplishments, including the first skyscraper, the first cell phone and dozens of other world-changing inventions. It is the home state of three American presidents and the birthplace of a fourth. It has a population in the millions and an economy that can compete on a global scale. However, all of these achievements are built on the state's natural resources.
Wind, water, minerals, soil and plant life have all shaped the lives of Illinois' residents, as has Illinois' position at the crossroads of North America.
---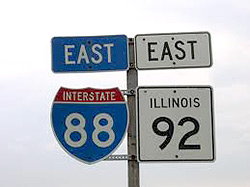 Location, location, location

Perhaps Illinois' greatest natural resource is simply its location. At the heart of the United States, it is crisscrossed by highways and railroads, sits at the meeting point of North America's two greatest navigable waterways and has the busiest airport in the world. Area Development magazine ranked Illinois third in the nation for transportation infrastructure in 2013.
Twelve interstates cross Illinois. That includes two of the three coast-to-coast highways: Interstate 80, which runs from New York to San Francisco, and Interstate 90, which runs from Boston to Seattle. It also includes one of the nation's major north-south roads: Interstate 55, which runs from Chicago to New Orleans.
The nation's largest rail hub is Chicago, and every major American rail line passes through Illinois, including CSX Transport, Norfolk Southern, Union Pacific, BNSF Railway and the Kansas City Southern Railway. In addition, the Canadian National Railway connects to Chicago.
Illinois is also the linking point of the Mississippi River, which flows from Minnesota to the Gulf of Mexico, and the St. Lawrence Seaway, which connects the Great Lakes to the Atlantic Ocean.
---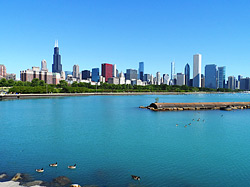 Water
It would be no exaggeration to say that water is the single most important natural resource. We drink it. We bathe in it. We use it to grow our crops and generate electricity. As populations grow and the climate changes, water shortages are becoming more common and disputes about water are becoming more volatile.
Fortunately for the farmers, businesses and residents of Illinois, this state is blessed by an abundance of easily accessible fresh water.
The state's northeast boundary is Lake Michigan, and together, the Great Lakes account for one-fifth of the world's fresh water. Illinois' western boundary is the Mississippi River, the largest river in North America. Its southern boundary is the Ohio River, and its southeastern boundary is the Wabash River. The interior of the state is also crisscrossed with rivers of all sizes.
All you have to do to see how important water was to Illinois' growth is look at a map. The most populated part of the state is clustered around Lake Michigan. The next most populated area is along the eastern bank of the Mississippi, near where it joins the Illinois River. Rockford is on the Rock River. Peoria is on the Illinois River. Joliet is on the Des Plaines River. Elgin and Aurora are on the Fox River.
The state's water wealth is not limited to lakes and rivers though. Much of Illinois' water is stored in underground aquifers. Throughout the state, but particularly in the north and along river beds, vast amounts of water collect in sand and bedrock, which can be accessed by wells and other extraction methods. In 2010, Illinois residents and businesses used about 13 billion gallons per day – mostly to generate electricity.
Illinois' water supply isn't endless – and some areas of the state that have less immediate access to water than others – but with reasonable management, the state's resources should be able to meet the needs of a growing population.
---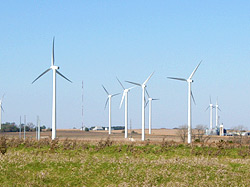 Wind and sun
With miles and miles of flat, windswept fields, Illinois is a good location for wind energy. Since the state's first wind farm was installed in 2003, the number of wind turbines in the state has expanded rapidly. By the end of 2012, Illinois ranked fourth among the states in installed wind capacity and generated enough wind energy to power 880,000 homes.
Illinois also has high potential to develop solar energy. According to the National Renewable Energy Laboratory, Illinois has the fourth highest potential for urban utility-scale solar panels, potentially being able to produce more than 100,000 gigawatt hours. It's also in the top 15 states for rural solar energy capacity and the top five for potential rooftop capacity.
---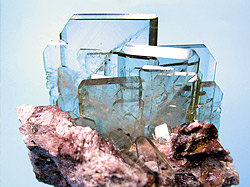 Minerals
Despite its flat terrain, Illinois produces more than $1 billion worth of mineral resources each year. In 2011, the state was second in sand and gravel production, first in tripoli (fine-grained quartz), third in peat and fourth in crushed stone. Though these resources probably aren't the first materials that come to mind when people think about mining, they are incredibly important for construction and farming. Illinois mines and plants also produce zinc, lime, cement, sulfur, iron oxide pigments, barite, perlite, clay, shale, vermiculite and silica.
---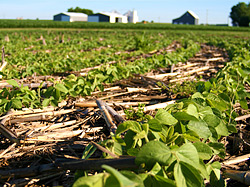 Soil
Anyone who's driven through Illinois has seen mile after mile of corn and soybeans. Illinois is a top producer of both crops, largely because the state has such rich soil. The main reason Illinois has such fertile soil can be traced back to the last ice age. As the glaciers slowly melted, they dropped soil and debris collected during the centuries they advanced to the south. Because the glaciers stopped over central Illinois, much of that material was deposited on the state. Illinois also has rich soil because centuries of decomposing prairie plants enriched the land they grew on.
According to the USDA Natural Resources Conservation Service, 68 percent of Illinois is prime farmland and another 14 percent is important farmland that is ideal for specific crops.
---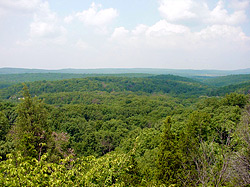 Forests
One of Illinois' nicknames is "The Prairie State," so it should come as no surprise that it has less forested land than many other states. What you may not know, if you've never visited Southern Illinois, is that the state is home to the Shawnee National Forest and more than 4.5 million acres of tree-covered land. Though Illinois doesn't have a lot of forestland, 72 percent of Illinois' trees are big enough to be harvested for timber. Most of those trees are oak or hickory.
---