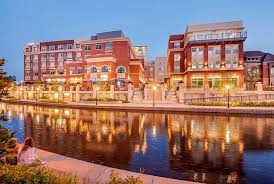 Illinois is home to the Bears, deep dish pizza, Abraham Lincoln and to some of the best towns in America. A report from Money listed 50 places in the country as the best places to live in the U.S. These cities were chosen based on a method which analyzed economic opportunities, quality of life, diversity, education, health, fun and amenities, and more. Of these 50 places to live, two towns in Illinois were selected: Rogers Park and Naperville.
According to the top 50 list, Rogers Park is one of the most welcoming places to live, home to residents of all kinds of different religions, creeds and ethnicities. Roger Park is ranked 5th overall, and it is known as the most diverse neighborhood in Chicago. Roger Park is unique for its multiculturalism. When visiting Roger Park, one can come across a mosque, temple, synagogue or a church on any corner. Residents in Roger Park are part of a close-knit community who support and uplift each another.
Naperville, ranked 16th on Money's list, has been named the best place to be a kid by the U.S. Census Bureau. It's not hard to see why families would have a great time raising their children in this city. The city has a number of locations perfect for families to visit, including a Riverwalk Park (seen in the image above), the Morton Arboretum, and even a manmade beach for summer lovers called Naperville's Centennial Beach. Naperville also has some of the best public schools, making it a place where kids can learn and have fun.
To read more about the top 50 best places to live in the U.S., click here.