Published: Monday, March 07, 2016 03:21 PM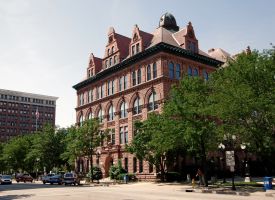 Illinois may have become a state in 1818. But one town started long before that in Illinois history. The first settlement in Illinois was Fort Crevecoeur in 1680, or modern-day Peoria. The fort would also be one of the first European buildings to be built in the Midwest.
Later the town would receive the name of Peoria after the Native American Peoria Tribe, which was a part of the Illinois Confederation. The town of Peoria, Arizona was named after Peoria, Illinois because the founders of the Arizona suburb of Phoenix wanted to name it after their hometown.
Today, the city of Peoria is the seventh most populist city in the state with a population of over 115,000. The city is home to the world headquarters of Caterpillar. Downtown Peoria was also home to the first Bergner's Department store, which closed in 1986.
For more information about Peoria: http://www.peoria.org/Home