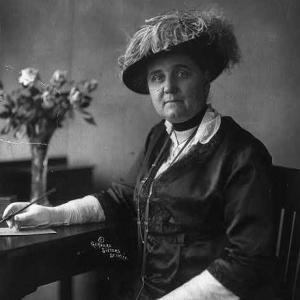 "The good we secure for ourselves is precarious and uncertain until it is secured for all of us and incorporated into our common life," said Jane Addams, the first American woman to win a Nobel Peace Prize. Addams spent her whole life fighting for the good and equality of everyone. She was the second woman ever to win the Nobel Peace Prize, the first American woman and the first woman from Illinois to win the award. She founded the Women's International League for Peace and Freedom in 1919, and during WWI she worked tirelessly for many years for the great nations of the world to disarm and conclude peace agreements. Before America joined the war she chaired a women's conference for peace held in the Hague Netherlands, and pleaded with President Woodrow Wilson to mediate peace. Instead America joined the war efforts, and Jane Addams became a loud and outspoken opponent to WWI. Once a peace treaty was made in Germany, the American government recognized her efforts for peace.
She won the Nobel Peace Prize in 1931, however she did more to achieve this award than fight against the Great War. Jane Addams was born in Cedarville in 1860 and died in Chicago in 1935. In 1881 she graduated from Rockford Female Seminary at the top of her class. During her life she worked to help the poor and stop children from being used in industrial labor. She ran a Hull House in Chicago, a center which helped immigrants, and it was the first settlement house in the United States. She would give speeches all across the nation advocating for the Hull House.
Jane Addams was a strong woman and courageous advocate for peace and equality. She, along with other women reformers, was instrumental in successfully lobbying for the creation of a juvenile court system. Addams also worked to establish a School for Social work at the University of Chicago. She was active in the women's suffrage movement and was an officer in the National American Women's Suffrage Association. She was outspoken about women's rights once saying, "Old-fashioned ways which no longer apply to changed conditions are a snare in which the feet of women have always become readily entangled."
Jane Addams accomplished much in her life, always seeking different ways to help those around her. She was a remarkable women who helped to improve Illinois and the lives of many.