Published: Monday, August 08, 2022 10:52 AM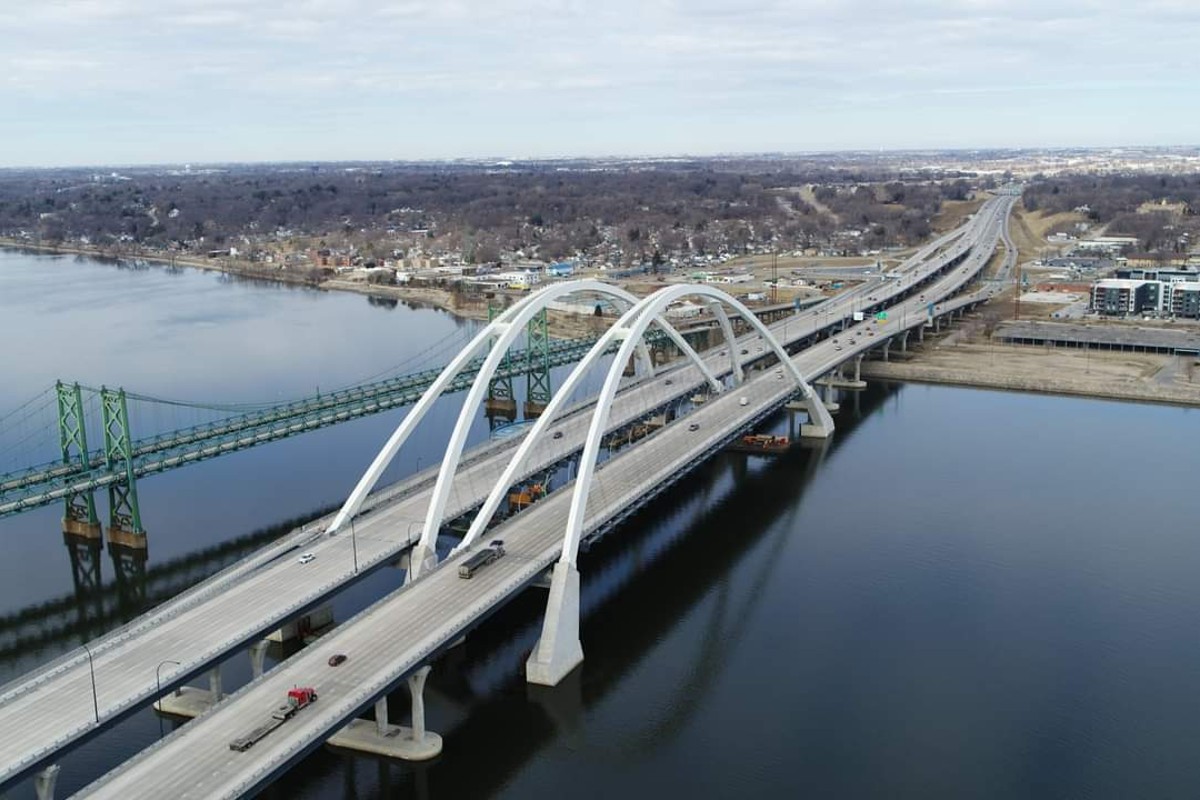 Each year, state transportation projects are celebrated and recognized through America's Transportation Awards – and an Illinois bridge came home as a winner. The awards recognize America's best transportation projects – those that prioritize safety, maximize accessibility, utilize resources effectively and incorporate innovative elements such as green space, bike paths, technology and access to public transit.
Last month, judges for the 2022 Midwest Region awards announced that the Interstate 74 Corridor Project, which connects Iowa to Illinois via a multi-use bridge over the Mississippi River, won top honors in the Quality of Life and Community Development category.
For this project, the Illinois and Iowa Departments of Transportation teamed up to take on the task of upgrading the 86-year-old bridge, which was in need of repair. The project was completed and fully opened to traffic on Dec. 2, 2021, and now carries nearly half of all traffic in the Quad Cities region. It was the biggest construction project in the cities' history, with a budget of $981 million.
The Quality of Life and Community Development category recognizes projects that improve access to community services, spur economic development, prioritize safety and enhance access to transit and non-motorized travel – for example, by increasing the number of bike lanes.
The I-74 Mississippi River Bridge Project is part of a broader plan to improve regional access to the river, and includes several upgraded features that made the project stand out among competitors from other Midwestern states. Renovations to the corridor not only included expanding capacity for motorists, but also improving accessibility and safety for those traveling in other ways.
Fully separate from the lanes of traffic and entirely ADA-accessible, the improved I-74 interchange includes a new multimodal bike and pedestrian path on the bridge which features a scenic overlook with a unique view of the Mississippi River. This is one of the country's only pedestrian paths that cross an interstate bridge – a highlight that project managers hope will help make the cities more walkable and bike-friendly.
Additional renovations to the bridge included upgraded concrete archways, expanded shoulders for improved emergency response and new interchanges and ramps to enable safer and more reliable travel. While construction was ongoing, project managers were able to successfully divert traffic away from work zones while keeping the flow of motorists across the river moving. The complex traffic staging enabled drivers to continue using the bridge even while it was under construction. Interstate 74 Corridor Project Manager George Ryan said he believes it also helped to compress the timeline of construction and allowed work to be completed at a faster pace.
Regional awardees will go on to compete for a chance at the national Grand Prize award, which is expected to be announced in October at the American Association of State Highway and Transportation Officials' annual meeting in Orlando.
The regional awards announcement can be found at AmericasTransportationAwards.org. For more information about the Interstate 74 Mississippi River Bridge Project, visit www.I74RiverBridge.com.